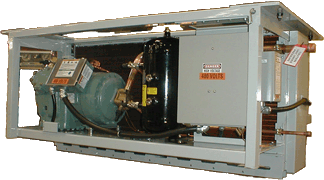 Northwest Rail Electric
2630 SE Steele Street
Portland Oregon 97202
(503) 231-4808, fax (503) 230-0572
You can also reach us at our e-mail contacts.
---
Railway Passenger Car Equipment:
Where is Northwest Rail Electric on a typical passenger car? Take a look at the average passenger car project to find out.

---
Who is Northwest Rail Electric?
We are a manufacturer of custom electrical equipment, electric locker packages, HVAC equipment and controls, and various other electrical equipment for the railroad passenger car industry. The majority of our customers are operators of small fleets of passenger cars, including track inspection services, small passenger operators, freight railroads with business cars, tourist railroads, and private passenger car owners. These passenger car operators are usually unable to have their needs met by the larger railway electrical equipment makers due to the volume of production being too small to be economically met by the larger manufacturers.

As part of our services for the railroad passenger car industry, we not only manufacture our own line of equipment but also act as distributors for various items useful for those working with passenger car electrical systems. These distributed products include a line of diesel generators designed for under-car mounting and excellent compatibility with Northwest Rail Electric generator controls. We also offer a range of Head-End Power equipment, power distribution equipment, connectors, and high performance railroad grade electrical wire include a number of items specifically required for railway car electrical systems. The term HEP is not new for us, having been involved, in some way or another, with several hundred Head-End Power conversions all over North America. We have done business with a number of passenger car shops, and have at times been involved as consultants in passenger car purchases and rebuilding. From small electrical hardware unique to passenger car air conditioning and electrical systems, Northwest Rail Electric can find a solution to your passenger car electrical equipment needs.

For a bit more about our company in a different form, please see the general pamphlets about our company, located in our Pamphlets in PDF Format area. The first one on the list provides the most extensive introduction to our company.
---
Links to Our Most Popular Parts and Products:
A somewhat more detailed list of what can be found on our web site:
This web site only features some of our diverse offerings, many of which have been custom projects to fit particular railroad passenger car rebuild needs. If you don't see exactly what you need on our web site, please contact us, as there is a very good possibility that we have built a system that is similar to one that you need for your specific passenger car project, and can modify a previous custom design to fit your specific needs.
[
E-mail
] [
503-231-4808
]
---
[ We are trade members of AAPRCO and RPCA. ] [ Here is our Local NRHS Chapter ]
---
.....................