[
Home
]
[
HEP Power Plugs
]
[
HEP Hardware
]
[
Generators for HEP
]
[
HEP Wayside Power
]
[
HEP Wire
]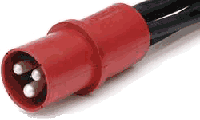 Private Car HEP Conversion
This is a list of the parts and hardware required to install Amtrak-compatible head-end power onto a railroad passenger car. The lengths of wire listed here are for a typical installation, and is subject to change due to the length of the car. Our head-end power parts brochure, available in the PDF Files section of our web site, also contains a list of these parts, as well as other helpful information.

This list is for those wanting to convert a car to full Amtrak HEP compatibility. For tourst railroad use only, it is possible to have a HEP system with reduced capacity with fewer parts, and thus less cost. Such cars are unable to operate in Amtrak service, but if such service is never planned for the car then full Amtrak HEP compatibility is not necessary.

The parts listed here only install the wires under the car, and assume that the rest of the car is up to adequate standards electrically. If you are doing a complete upgrade of the car, you will probably also want to have an electrical locker package, such as our NW-25100 or similar package, which includes the HEP main breaker required by Amtrak. You may also wish to look at our heating and air conditioning products as you may need to upgrade or replace the heating and air conditioning system.
Item #
Quantity Required
For Typical Full
(Amtrak-style) HEP
Northwest Rail
Electric Part #
Description
1
4
MPA-1SR-0085
480 Volt Fixed Jumper

2
4
MRA-1-0024
480 Volt Receptacle, 24 inch leads

3
4
MRA-H
Clements 480 Volt HEP Receptacle Housing


Red (right) is the standard color.
4
4
CRA27180AMTK
27 point Communication Receptacle, 180 inch leads

5
1
CPA-2760AMTK
Clements 27 point Jumper
6
1
NW16289
480 volt HEP Junction Box
7
2
NW-COMJCTBX-SS
27 point Junction Box (stainless steel)
8
24
NW8007
Insulating Sleeve (or "Splice Boots")

9
50 (1) (2)
914008
Standard HEP Neoprene
#4/0 Wire Cleat
1. Please Note: In the past some sellers have sold these cleats in halves, doubling the quantity required. Northwest Rail Electric sells cleats by the entire cleat - two halves.
10
75 (2)
NW4008C
Standard Cleat Clamp Plate for #914008
11
24
ZB-20
#4/0 Cord Grip
12
72
326803
AMP #4/0 AWG Lugs, 3/8 inch 2 Hole

13
1,100 ft. (2) (4)
W-10.6KV
#10, 27/24, 600 volt wire
14
1,600 ft. (2) (4)
W-12.6KV
#12, 19/25, 600 volt wire
15
500 ft. (2) (4)
T-75051
#14/2, shielded wire
16
1,000 ft. (2)
T-75053
#4/0, 2,000 volt wire, American Association of Railroads 591
17
4
HPMTGPL
HEP Mounting Plate

18
8
ZB-9
Control Wire Strain Relief
19 (3)
4 (3)
1-HEP-0026 (3)
Comm / MU Mounting Box, Single Opening

MU Option (MU is only required for cars on certain Amtrak routes):
20 (3)
4 (3)
1-HEP-0027 (3)
Comm / MU Mounting Box, Double Opening

21
4
CRA-27180MUBK
Clements MU Receptacle - 180 inch Leads
22
1
CPA-2760MU
Clements MU Jumper - 60 inch
2. Please Note: Approximate quantity. Please call or email and tell us a bit about the car, cable routing and other information for better estimate of likely car requirements.
3. Please Note: Substitute four of 1-HEP-0027 for the four 1-HEP-0026 if both MU and Comm are to be added to the car.
4 Please Note: Adding MU to the car also requires approximately double the quantity of the smaller gauge wire sizes listed here.
The Following Parts are NOT Included in the Above List:
Conduit: electrical conduit is available anywhere. It will be required in a number of situations, including around the HEP power cables above the trucks (open air is required elsehwere), and to hold MU and COMM cables.
Metal Hardware:The Northwest Rail Electric HEP connector mounting plate (Northwest Rail Electric # HPMTGPL) listed above holds the HEP connectors in place, but additional metal may be required to put the connector in the correct location. The exact hardware required depends on the car design. Additional metal may also be required to hold the wire cleats in the correct location under the car, and the requirements here also depend on the car.

The parts listed above only convert a railroad car to HEP compatibility in terms of the car to car electrical system. To convert the interior car electrical system to operate off of the HEP system, additional changes will need to be made, depending on existing electrical equipment inside the car.
For converting a passenger car electrical system and HVAC system to head-end power (and most of our customers want to do a complete upgrade on their cars), Northwest Rail Electric also offers various HVAC and electrical system packages that may be required if converting the entire car to operate off of the HEP system. These products include:
Air Conditioning Condenser Package for situations where the air conditioning condenser under the car is in poor condition and needs to be completely replaced.

Air Conditioning Compact Evaporator Package for situations where the air conditioning evaporator, duct blowers, and overhead heat system needs to be replaced. If you are upgrading a car with direct current blowers and steam heat coils, this is your best route, as it puts everything requiring replacement in a single package.

Solid Element Heaters for situations where only the heater coils need to be replaced.

An Electrical Locker Package such as our NW-25100 package provides circuit breakers, HVAC Control, and Emergency Lighting Control for situations where the existing electrical system needs to be completely replaced. Electrical Locker Packages from Northwest Rail Electric may be produced to meet a number of different demands, but our standard packages meet the need of most cars.

Diesel Powered Generators for use under passenger cars. These may be sized to provide power only for one car, or to feed the HEP power system.


Under-car generator with roll-out service track.

If the car has an early generation alternating current thermostat control system in it, you will probably want to replace it with one of our NW-603-INT control systems for control of the heat and air conditioning system. These early generation systems proved unreliable when they were first installed, and got worse as they aged.

A Direct Current Control System if the requirements of the car include a number of DC loads.

HEP Main Circuit Breaker: The size of the breaker between the HEP system and the car electrical system depends on the size of the load connected to it. If the car has never had HEP, and everything else on the car is satisfactory, this must be added if the car is to be powered from HEP. If the electrical locker package is purchased from Northwest Rail Electric, this breaker is included in the package.

Transformers: The size of the transformers depends on the size of the low voltage load. Northwest Rail Electric can provide just the transformers if that is all that is required, but in some situations we have also provided a tranformer rack package such as our NW9290 Transformer Package for mounting the transformers under the car.
If you are considering converting a car to HEP, please give us a call to find out more about how Northwest Rail Electric is able to help you meet your requirements.
---
[
HEP Power Plugs
]
[
HEP Hardware
]
[
Generators for HEP
]
[
HEP Wayside Power
]
[
HEP Wire
]
[
Complete Car Electrical Control Package
]
[
Home
]
[
List of Products and Services
]
[ e-mail ]