[
Home
]
[
HEP Power Plugs
]
[
HEP Hardware
]
[
Generators for HEP
]
[
Conversion to Amtrak HEP
]
[
HEP Wayside Power
]
[
HEP Wire
]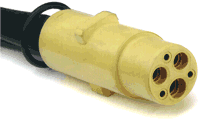 Head-End Power Products
From Northwest Rail Electric
Phone: (503) 231-4808, Fax: (503) 230-0572, E-mail

---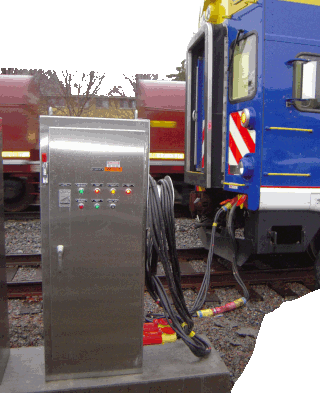 [Jump to HEP Products]

Head-End Power is a system of electrical power distribution on a passenger train in which a power source in a central location on the train (usually a locomotive or a generator car) generates all the electricity for "hotel" power (non-traction, or non-motive power uses) needed by the train. Virtually all modern passenger trains have their electrical needs met in this fashion. Even some DMU and EMU cars are equipped with HEP in some form to allow one car to provide power to other cars in the event of an equipment failure. The acronym HEP is in common usage throughout North America.

At right is a commuter train being fed from a Northwest Rail Electric NW-YPHP "Yard Power" system while it is in evening storage.

Providing power on a passenger train requires some careful design for electrical distribution:
Each car must be designed to carry the full electrical load of the train, because each car has the potential to be placed directly next to the generator car or locomotive that supplies the electrical power. It's not possible to reduce distribution capacity as the distance gets further from the source, as utility companies with a fixed infrastructure are able to do.

Each car must have compatible electrical plugs and sockets at each end.

These plugs and sockets must still be compatible with each other and must still work should one of the cars be separated from the train and turned around and rejoined (except for the case of certain tourists railroads who don't exchange cars with any other railroad companies and never turn their cars).

The jumper wires to go between the plugs and sockets must be designed to withstand operation in a very harsh environment.

The jumper wires must be long enough to provide enough slack for connection and disconnection, but they must not be so long as to drag on the ground while the train is moving.

The connections must be positioned so that the cables do not rub against or come into contact with various other parts of the passenger car, including such items as the air brake lines, couplers, etc.

There needs to be some method of protection for the system should one of the connectors be disconnected.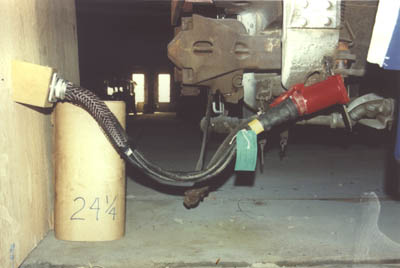 At right it is possible to see a car shop carefully planning where they put their head-end power connections on the passenger cars they are rebuilding. The long black electrical cable is a typical HEP connector.

Due to the need for compatibility between the various cars on a train, as well as common safety concerns (a safety problem on one car can be a problem for the entire train), Amtrak has produced a series of passenger car standards. These standards cover the various requirements for HEP (as well as other areas) that need to be followed to produce a railroad car that can be added into an Amtrak passenger train without any compatibility or safety problems.

For those wanting to convert their passenger car to full Amtrak compatible HEP, we have a List of Parts required.

Other HEP systems are also in use in North America outside of Amtrak. These include Canadian systems, as well as tourist railroads that want the advantages of HEP without the expense of the full power capacity of Amtrak style HEP. We have a list of various HEP configurations used. Northwest Rail Electric equipment has been used on all of the systems mentioned on that page.
---
We have a list available of the materials and parts required to convert a railroad passenger car to head end power. This list only gives those parts for conversion to operate on Amtrak, and does not include such things as mechanical inspections, converting electrical systems on the car to operate off of the HEP power, and air conditioning conversion.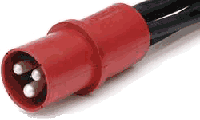 The following products are distributed by Northwest Rail Electric for use in the Head End Power market:
---
An Adobe Acrobat version of the brochure for our HEP products is available in the PDF Files area.
---
Related Products from Northwest Rail Electric:
For those doing a complete upgrade on a railroad passenger car, we also offer:
---
[
HEP Connectors
]
[
Parts for Amtrak HEP
]
[
Generators for HEP
]
[
HEP Wayside Power
]
[
HEP Wire
]
[
Railway Heating and Air Conditioning
]
[
Complete Car Electrical Control Package
]
[
Home
]
[
List of Products and Services
]
[ e-mail ]