[
Home
]
[
Railway Electrical Packages
]
[
Railway Air Conditioning
]
[
Custom Controls for Railways
]
NW-25100 Passenger Car Electrical Locker Package
Phone: (503) 231-4808, Fax: (503) 230-0572, E-mail
---
An Adobe Acrobat version of the brochure for our NW-25100 is available in the PDF Files area of our web site.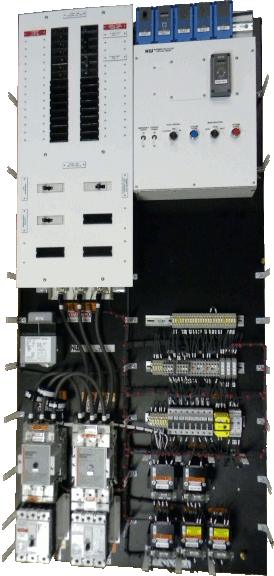 The NW-25100 passenger car electrical package is designed to be a fairly small, yet complete, power control center for use on coaches and other cars with a simple electrical demand and conversion or updating to operation at 480 volt, three phase power is desired.
A wide number of variations are available to suit a variety of passenger car configurations and needs. Standard options include electronic controls (below) or industrial temperature controls (left and right).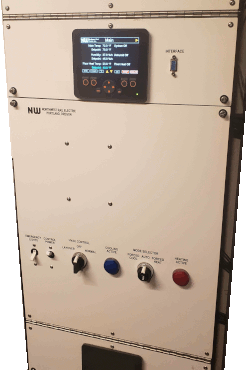 This unit is available in several size patterns. The unit shown at left was produced in 2011 to suit the needs of a business car on a major North American freight railroad company. It is 18 inches wide, by 74 inches tall, by 8 inches deep from the back of the panel to the top of the highest control knob, when the control panel is closed. Space does needs to be provided for opening the hinged control panel cover for installation and maintenance, but the system does fit very well in the depth provided by most existing heritage electrical lockers, even small spaces such as the interior control locker of RDCs. Pictured at above center is the control system used in some fairly recent models, which is a programmable system with a considerable number of features and options available. At right is the control system as it existed in the late 1990s. The photo at right illustrates the clearance required to open the control panel lid. The NW-25100 has a long record of providing exactly what most heritage passenger car conversions need, and the features and different styles available have continued to evolve to suit new component availability, desired features from our customers, and a desire to continually improve our products.

At below right, a model from 1998 is shown. The features of the NW-25100 are adjusted to suit the particular needs of cars and the various desires of their owners, meaning that many different slight variations have been produced over the years. These are only a few examples.

The features of the NW-25100:
18 inches by 74 inches for most currently produced versions of this system if built in a vertical format. It is still possible for us to produce the older 62 inch high versions, but only with the loss of certain very desirable control system features or reduced the number of 120 and 208 volt circuit breaker positions. Additional space for generator controls, DC system panels or other options will increate the height or width, depending on the shape of the space available.

Amtrak and transit agency compliant HEP Main Breaker for 480 volt power coming from the head-end power system.

Five 480 volt, three phase circuit breaker positions (Six including the HEP main breaker position). The typical unit also includes a 480v overhead heat breaker, 480v air conditioning condenser breaker, and a breaker for the 480v to 208v transformers.

The programmable logic controller version of the NW-25100 has a number of options that may be programmed into the system.

Options include adjustable floor heat level, error logging, and many other features. The main display menu for a typical example is shown below. Depending on the number of sensors and transducers installed on the car, it is possible to also display air conditioning system pressures and other system status indicators.

Certain types of NW-25100 have been equipped with a three-phase power monitor prevents damage to HVAC equipment by preventing operation when power supplied to passenger car has incorrect phase rotation or voltage imbalance. Most of the time, and on all recent systems made by Northwest Rail Electric, the three phase power monitor is located on the air conditioning condenser as the compressor is the primary piece of equipment that will suffer damage if it is exposed to reverse rotation. If the phase detector is required to protect certain equipment it may be added to the NW-25100 as an option.

Short-Cycle Timer to prevent Air Conditioning Compressor Overheating has been applied in some units, but most of the time this is located at the Air Conditioning Condenser and is part of the compressor control system. If required to operate with a particular type of air conditioning system it may be added as an option.

Thirty 120 volt, single phase circuit breaker positions (only six breakers are provided in the standard package, but more may be included with the order if required). These positions come on a 3 phase 208 volt panel so they may be combined into 208 volt single phase or 208 volt three phase circuits, as well as single phase 120 volt circuits.

Control for several HVAC stages, depending on the specific options desired:

Single stage air conditioning and three stages of heating, or two stages of air conditioning and two stages of heating are fairly typical, but various options may be added or removed depending on the requirements of the car.

It is fairly typical for the control system to take advantage of three blower speeds that are available in the typical Northwest Rail Electric evaporator unit but may be built for systems with single speed or two speed blowers.

Various options (below) may be added for additional control features.

Other HVAC stage configurations may be built to custom order

Control of up to three fan speeds if combined with most versions of our NW-BEOH-C evaporator unit for increased passenger comfort over a single speed blower system.

Current Temperature Display and Set Point Temperature Display

Indicator lighs provide system status indication.


Typical NW-25100 Controls

24 volt control voltage circuit breaker

Emergency lighting circuit breaker and relay provided for automatic operating of emergency lighting system. The standard circuit is rated 20 amps at 12 volts or 13 amps at 28 volts, but this system may be customized to suit other needs.

Control system includes several terminal options, with all terminals easily accessed after the control panel cover is opened. Terminals are a semi-closed type that are reasonably insulated against accidental touch of the high voltage parts.

Custom-made engraved labels can be made to order for all electrical loads powered by the circuit breaker panels. The standard colors are black text on white, but various other colors have been produced to meet various customer demands.

Built-in 120 volt (or 480 volt, depending on the system requirements) to 24 volt transformer supplies all low voltage electrical equipment on the NW-25100, or it may be remte mounted with a connector if space requirements dictate a smaller system size.

All panel covers are powder coated (not painted) to provide a high-quality, long-lasting finish.

Hinged cover over control components provided with strap to allow for in-place hands-free service.
Options:
Additional Heat or Air Conditioning stages.

Dehumidification. In some recent units, dehumidification has been moved to the interior of the enclosure to prevent accidental adjustment of dehumidification rather than the temperature control. Note this is shown in the top photograph below - the humidity control is the blue box located inside the control panel enclosure. In other cases it may be mounted in a recessed location on the panel cover, as seen in the system pictured at the top on the left. In programmable logic control versions the dehumidifcation is built into the programming with no additioanl components required other than a humidity sensor.

Additional independent control of floor heat / baseboard heat, if no additional stages of heat or air conditioning are added.

If being used with a system other than a Northwest Rail Electric NW-BEOH-C, may be ordered with single speed blowers or otherwise modified to suit the existing evaporator and condenser.

Package size or shape changes to adjust for space available, as seen here:


A modified NW-25100 package with the breaker panel
beside the HVAC control unit, and a
generator control panel added under the HVAC control.
We also have a two-zone version NW-25200 available, for dome cars or other situations where two control zones are desirable.
The NW-25100 may also be incorporated into custom control panels and complete locker packages of various types. See our Custom Locker Packages for some examples of custom packages that use these as part of a larger custom package, as well as other custom electrical packages for railroad passenger cars.
---
[
Custom Controls for Railways
]
[
Railway Electrical Packages
]
[
HEP Connectors
]
[
Parts for Amtrak HEP
]
[
Generators for HEP
]
[
HEP Wayside Power
]
[
Railway Heating and Air Conditioning
]
[
Home
]
[
List of Products and Services
]
[ e-mail ]