[
Home
]
[
Heating and Air Conditioning
]
[
Custom HVAC Examples
]
[
Railway Electrical Systems
]
[
Generators for HEP
]
[
HEP
]
Northwest Rail Electric
Parts on a Typical Passenger Car Upgrade or Rebuild Project
Phone: (503) 231-4808 Fax: (503) 230-0572 e-mail contacts
---
This page illustrates a fairly typical passenger car rebuilding project and what Northwest Rail Electric equipment is usually provided.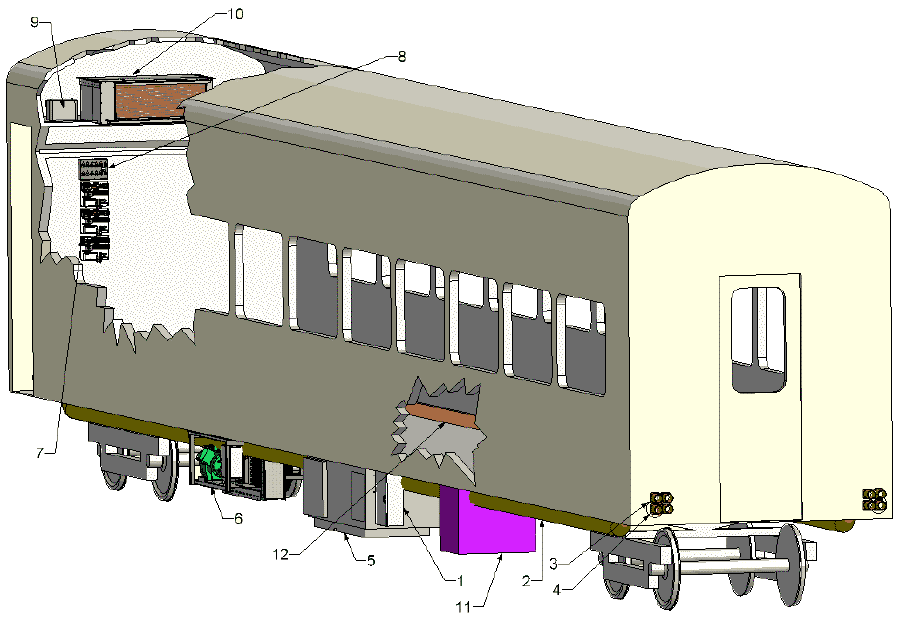 Under car electrical equipment in an enclosure. This has included generator control packages, HEP main circuit breakers, and power feed equipment for the HEP trainline.

Head-End Power and related hardware. This includes the 4/0 wire for the HEP trainline, HEP main breaker, splice boots, wire cleats, HEP connectors, and much of the other hardware unique to HEP power conversions. The typical passenger car rebuilding project involves upgrading the car to full Amtrak compatibility to operate the car in Amtrak consists. However, lesser upgrades are also possible for cars only operating in tourist railroad service.

Communications and Multiple Unit Receptacles and related hardware. This includes mouting enclosures, jumpers, communication junction enclosures, and wire required to complete the installation.

Head-End Power Receptacles and Fixed Jumpers. This includes mounting brackets to hold the recptacles and fixed jumpers on the end of the car, and jumpers and extensions in various lengths.

Under-Car Generator Set. This will likely be in power ranges from 20 kW to 175 kW, and may have enough capacity for several other passenger cars, depending on the power requirements of the car it is mounted on. Typically, the generator control system includes a control system and detector equipment for remote control from inside the passenger car as well as giving indications of coolant temperature, oil pressure, and other engine system operations. Optional features include the ability to send power to other cars and automatic start on HEP failure.


Roll-out service tracks are a popular option for under-car generators.

Under-Car Air Conditioning Condenser. Standard models may be any of several different capacities, configurations and compressor brands, depending on customer needs and desires. We have also produced custom condensers to suit particular customer requests. Some photos of a few of our custom HVAC parts and systems are located in the Custom HVAC Euipment section of the web site.

Electrical Locker Package. This typically includes HVAC Control, Circuit Breaker Panels, HEP Main Breaker, Generator Breaker and Generator Control System (if there is a generator on the car). The generator control may be a power car package such as the NW-GC130 and NW-GC140 series or a car power selection package such as our NW-GC500 series, with automatic generator start-up should another power source (HEP or yard) fail, and various other equipment, depending on the customer needs. One of our most common packages has been the NW-25100 series of locker packages, or for dome cars the NW-25200 two zone package as it allows independent control of the dome air conditioning system. We have also produced various custom locker packages and variations of our standard packages adapted to fit various situations.

DC Control System. This includes DC Battery Power Curcuit Breakers, Battery Charging System, and other equipment based on the customer needs. While many of these have been custom packages, even our most simple standard locker package includes as standard equipment an emergency lighting circuit breaker and relay to turn on the emergency lights when the power fails.


DC Control Panel with Marker Light Circuit Breaker and Battery Voltage Meter

Deep Cycle Battery. Northwest Rail Electric supplies spiral-wound deep cycle batteries for emergency lighting, generator starting, and other systems requiring batteries. These batteries have a proven record, even in situations where they have been completely discharged. There is no liquid in the battery so that even if the car is completely inverted in a collision the battery will continue to provide power to emergency lights. This battery may be located in any convenient part of the car, but is usually fairly low in the electrical locker of the car. While this high level location isn't very common it is one of many different possibilities.

Air Conditioning, Heating, and Blower Enclosure. These overhead units include electric heating elements, air conditioning evaporator equipment, and blowers required for the passenger compartment portion of the air conditioning and heating system. Virtually all heritage cars in North America are able to accept one or the other style of overhead air handler unit. The vast majority of our customers prefer our compact version but for those that already have our older version installed on their cars, that unit may still be built for fleet compatibility.

Transformers. Northwest Rail Electric can supply transformers required to change voltage from the 480 volt HEP supply to 208/120 volt power for lighting and common electrical equipment and receptacles. Custom voltages can also be produced (for example, for use on the few 575 volt HEP systems out there).

Baseboard Heaters. Northwest Rail Electric has provided several different types of baseboard heaters and systems. This could include a low-profile electric heating system, or an electric boiler and circulation pump to use with an existing hot water baseboard system.
A Few Products Not Featured on Above Diagram:
Rubber Tube Diaphragms are required if converting a passenger car to be compatible with Amtrak. However, many cars out there already have these installed, and therefore the "typical" car conversion does not require that they be purchased from us. However, they are available if they are needed.

PLC Based Control Systems are available from Northwest Rail Electric for performing control, diagnostic, and communication functions. However, they are not part of the typical passenger car rebuilding project.

Yard Power Packages are used to power the HEP trainline from utility power when a car is in the shop or when a train is laying over at a station.
Additional Information
There are also two different brochures describing our company (as well as a number of product brochures) available in Adobe Acrobat format, which are available in the Adobe Acrobat Files section of our web site.
---
[
HEP Connectors
]
[
Parts for Amtrak HEP
]
[
Generators for HEP
]
[
HEP Wayside Power
]
[
HEP Wire
]
[
Railway Heating and Air Conditioning
]
[
Railway Electrical Systems
]
[
Complete Car Electrical Control Package
]
[
Custom Equipment Examples
]
[
Home
]
[
List of Products and Services
]
[ e-mail ]