[
Home
]
[
Railway Air Conditioning
]
[
Under-Car HVAC Unit
]
Custom Railway HVAC Examples
]
[
Electrical Systems
]
[
HEP
]
NW-4 Rooftop HVAC Unit
including heat
by Northwest Rail Electric
Phone: (503) 231-4808 Fax: (503) 230-0572 E-mail
See where our equipment is located on a typical railway passenger car
---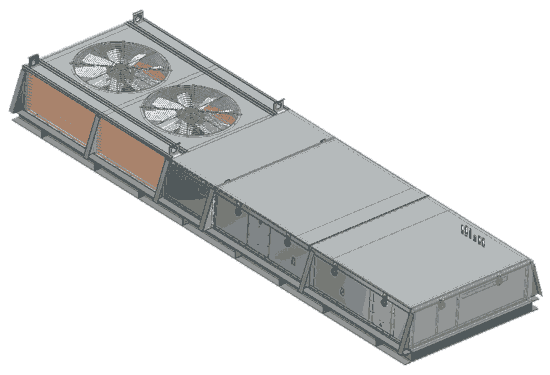 The NW-4 came from a desire to produce a rooftop unit that fit certain unique passenger car space requirements on the roof of a particular car design, with it and other rooftop systems hidden by cowling on the completed car. Soon afterward several other customers decided the unit fit their unique passenger car rooftop air conditioning needs as well, and today these units have joined the ranks of our regular product line. Among other features, the unit is designed to provide air into a duct running the length of the car, rather than crosswise as most railway rooftop units do. This allowed certain heritage passenger cars to have rooftop air conditioning systems without extensive rebuilding of the duct work.
Features include:
Incoming Voltage normally 480v 3 phase - the standard HEP voltage. No need for added transformer capacity. (Units operating on other voltages are possible if desired by the customer.)

Up to 11 tons of cooling capacity and 24 kW of heat.

3 stages of air conditioning and 2 stages of overhead heat allow the system to only use the energy required to keep the interior of the car at the required temperature.

3 speed evaporator fans save energy by only consuming the required energy, and reduces interior noise over single speed systems. This also increases passenger comfort over single speed systems, as high speed air movement is only allowed to happen when it is required to provide the needed capacity.

System is designed to have variable speed condenser fans, so that exterior noise and energy consumption is reduced over single speed fans.

"Fail Safe" design provides limited cooling capacity even if there is a partial system failure.

Hermitically sealed system and compressors.

Compressors have been used in a number of passenger car rebuilds in North America, and on new equipment in Europe.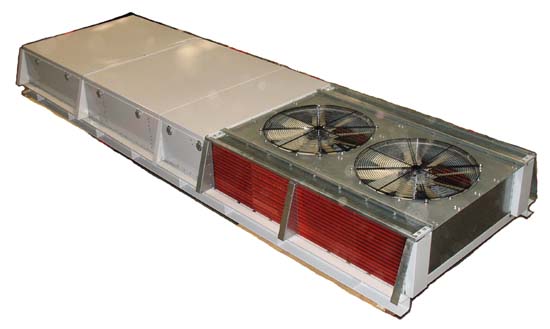 An NW-4 system as built and ready for shipment.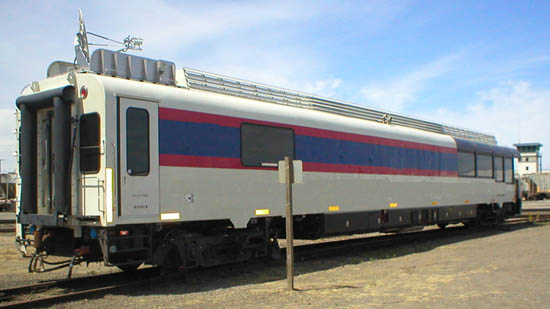 As installed on this railroad business car, the NW-4 is covered by venting, cowling, and other roof equipment making it not just unobtrusive, but nearly invisible.

Call Northwest Rail Electric to see if this unit meets the needs for your passenger car. Assorted variations, including zero-ODP refrigerants and other voltages, are under discussion with customers right now.
---
Related Railway Air Conditioning Products:
---
[
Railway Heating and Air Conditioning
]
[
Under-Car Package HVAC Unit
]
[
Electrical Systems
]
[
Custom Controls for Railways
]
[
Generator Controls
]
[
HEP Parts
]
[
HEP Wayside Power
]
[
Home
]
[
List of Products and Services
]
[ e-mail ]