[
Home
]
[
Railway Air Conditioning
]
[
Car Roof Unit
]
Custom Railway HVAC Examples
]
[
Electrical Systems
]
[
HEP
]
NW-2 Passenger Car Air Conditioning Unit
Phone: (503) 231-4808 Fax: (503) 230-0572 E-mail
See where our equipment is located on a typical railway passenger car
---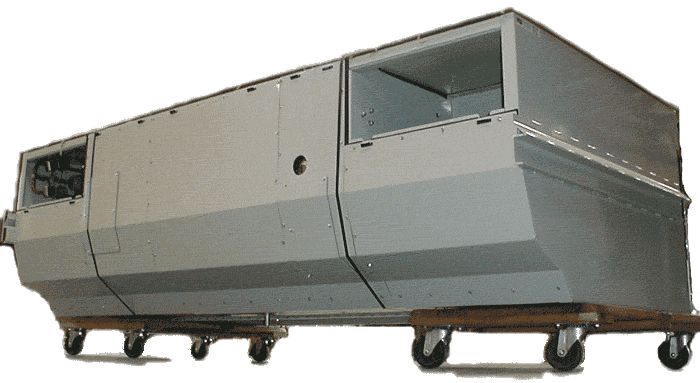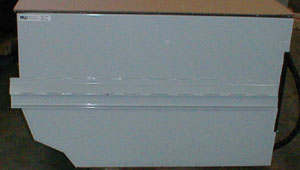 The NW-2 air conditioning unit is designed specifically for the rigors of providing 7.5 tons of air conditioning capacity and up to 27 kilowatts of heat (36 if heater is mounted externally) while being mounted underneath a railroad passenger car. The package is intended specifically for new cars or very heavily rebuilt cars. The package will not fit cars with only overhead duct work, as the unit must be mounted under the passenger car floor. Unlike rectangular condenser units that are basically modifications of commercial building systems, this air conditioning system has a profile (see end view at right) that is designed specifically with under-car clearance requirements in mind.
Air Conditioning Compressor:
The unit is designed with highly reliable Maneurop hermitically sealed compressors for the air conditioning system. Nowrthwest Rail Electric has several hundred of these compressors in service on railroad passenger cars all over North America.
Heat:
On some units, up to 27 kilowatts of electric heat is also integrated into the package. On other units, 24 or 36 kilowatts of heat are installed in separate duct heaters.
Condenser Coil:
At the heart of this package is a condenser coil designed to survive the rigors of the railroad environment.
Drip Pan:
The evaporator drip pan is a stainless steel sheet with stanless steel drain tube and a built-in drain trap to prevent outside dirt from entering the system when it is shut off.
Fans:
On each unit, the condenser and evaporator fans are all the same make and model, which allows for a reduced spare parts count over traditional split systems: you need only inventory one fan as a spare part. They are three speed motors, so that the unit will only make as much noise as necessary to keep the car at the required temperature. The variable speed is also used on the condenser fans, so that even exterior noise is significantly reduced during partial load conditions. Fan blower wheels are aluminum, and if requested by customer can be a welded aluminum type. Each fan is equipped with an internal temperature detector that will shut off the fan in the event overheats, and will automatically reset.
Electrical Control System:
Phase indicator lights visible through a sight glass in the front of the unit makes it possible to see if all three phases are present and operating with correct phase rotation. Electrical overload switches wherever possible prevent system damage. Two stages of heat and three stages of cooling allow for best passenger comfort. Emergency heat and cool functions bypass all temperature detection and staging in the event that a severe problem occurs.

Recently produced systems are equipped with pressure transducers and allow for pressure readings of the refrigerant, so that system operation may be monitored, if desired.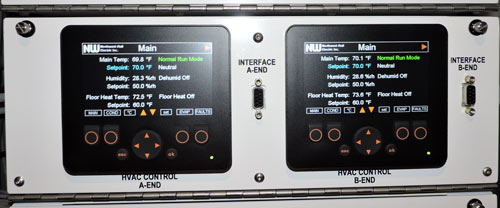 Powder Coat Finish:
A durable finish that will survive the conditions present under a railroad car.
Proven Service:
The first units were put into service in 1996. Since then, over 100 of them have been put into service for various operators.
---
Related Railway Air Conditioning Products:
---
[
Railway Heating and Air Conditioning
]
[
Roof Package HVAC Unit
]
[
Electrical Systems
]
[
Custom Controls for Railways
]
[
Generator Controls
]
[
HEP Parts
]
[
HEP Wayside Power
]
[
Home
]
[
List of Products and Services
]
[ e-mail ]