[
Home
]
[
Air Conditioning
]
[
Overhead Evaporator and Heat Package
]
[
Locker with HVAC Control
]
[
Custom HVAC Examples
]
[
HEP
]
NW-CND-2 Railroad Car Air Conditioning Condenser
Phone: (503) 231-4808 Fax: (503) 230-0572 E-mail
See where our equipment is located on a typical railway passenger car

---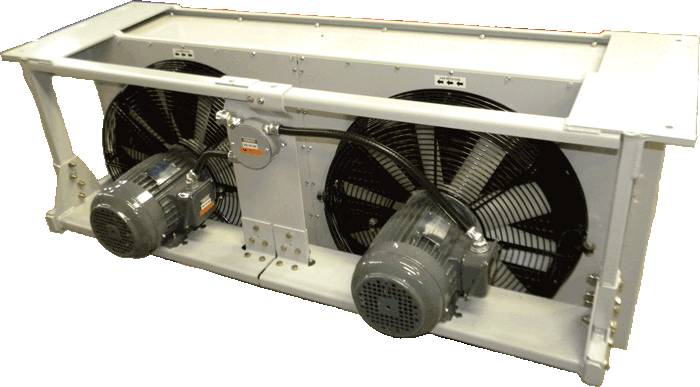 NW-CND-2 under-car condenser from Northwest Rail Electric
The NW-CND-2 is specifically designed to meet the needs of railroad passenger cars. Unlike our popular NW-100-CN series of condensers, there is no compressor, as the NW-CND-2 is designed for situations where the existing compressor is satisfactory for the needs of the car but a new or improved condenser is required. Such situations have included:
Cases where more condenser coil capacity is required (condenser coil sized wrong by original installer of equipment, or operating environment of the car changed from, for example, Alaska to Arizona after air conditioning was installed)
Cases where the condesner coil and air conditioning compressor are in two different locations. This may include cars with limited clearance underneath, or with large or oddly shaped equipment or water tanks underneath, or various other situations that do not allow a full condenser with compressor package.
Existing condenser is simply at the end of its useful life.
Features of our condenser include:
Unit enclosure is powder coated for a long lasting finish.

Coil made of rugged, widely spaced copper fins that will not clog or break as easily as refrigeration coils that are designed for stationary use.

For the 3 phase AC versions of this unit, the fans and motors are the exact same type as used on the NW-100-CN series of condensers for ease of parts availability and stocking of spares.
Options Available:
Nominal cooling capacity of approximately 7.5 or 10 tons, depending on the compressor and other parts of the system that are not part of the condenser.

Voltage: 240 Volts or 480 Volts 3 phase AC, or 72 volts DC.

Removable motor support for situations where access to the back of the unit is difficult.

Pressure switch and contactor available to integration into control system. May also use an existing control system.
NOTE: The 72 volt DC version of this air conditioning condenser may be used to replace an existing system on an RDC or similar 72 volt DC passenger car. However, modifications will be required to the structure that holds the condenser frame.

We also offer a version with a single fan: the NW-CND-3, which is usually used to add capacity to an existing system.

For most passenger car rebuilding projects our NW-100-CN series of condensers offer a better solution as they include the air conditioning compressor as well as the condenser coil and pressure switches all in a single unit. THe NW-CND-2 Air Conditioning Condenser, however, has found a place in a surprising number of passenger cars where just an air conditioning condenser was required.
---
[
Railway Heating and Air Conditioning
]
[
Under-Car Package HVAC Unit
]
[
Roof Package HVAC Unit
]
[
Electrical Systems
]
[
Custom Controls for Railways
]
[
Generator Controls
]
[
HEP Parts
]
[
HEP Yard Power Units
]
[
Home
]
[
List of Products and Services
]
[ e-mail ]