[
Home
]
[
HEP Parts
]
[
Electrical Controls
]
[
Railway HVAC Products
]

E-mail
See where our equipment is located on a typical railway passenger car
---
Northwest Rail Electric provides electrical products and related services to the railroad passenger car industry.

Electrical Locker Packages:
We offer a number of electrical locker packages for upgrading and control of electrical systems on passenger cars. These include:
Heating and Air Conditioning Equipment: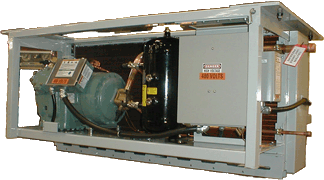 We have produced a number of HVAC products, including 7.5- and 10- ton under-car air conditioning systems, custom evaporator and condenser systems, a series of overhead blower and evaporator units designed for passenger car retrofit, various heaters, and produce a line of railroad grade air conditioning condensers specifically for railroad passenger cars. Our list of products include:

HVAC Controls:
The photograph at right is a custom HVAC controls system built for a dome car that required multiple zones of air conditioning capacity. Most of our systems for controlling passenger car heating, venting, and air conditioning are designed to be part of a larger locker package (See above). This is not the case with our NW-603-INT. This HVAC control system was designed to be a replacement for older passenger car HVAC control systems, and to fit right into the existing electrical locker as much as possible.
Generator Controls:
We have three basic families of Generator Controls: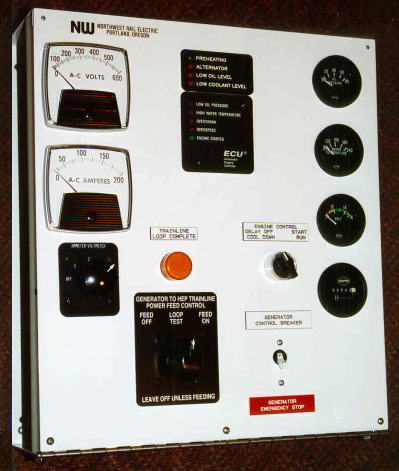 Diesel Generator Sets:
We are a distributor of Stadco Diesel Generator Sets so that we are able to provide not only a compatible generator control, but a diesel generator set as well that is designed specifically for the railroad industry.
Yard Power Packages:
Head-End Power Products:
We produce and distribute a number of head-end power products, including HEP connectors, Amtrak-approved junction boxes, railroad industry grade wire, and various other parts for converting passenger cars to head-end power.
Car Rebuilding and Repair:
Northwest Rail Electric does not perform general rebuilding and repair of railroad passenger cars. However, we do have good relationships with several shops that are very good at rebuilding passenger cars, and have worked with a number of passenger car shops around the country. We have provided consulting on a number of projects that included our working with car shops and car dealers to find passenger cars that will serve the customers needs. As these projects have all been custom to fit the needs of each customer, for a little more information see our custom products gallery.
---
[
HEP Parts
]
[
Electrical Controls
]
[
Railway HVAC Products
]
[
Home
]
[
List of Products and Services
]
[ e-mail ]