[
Home
]
[
Overhead Evaporator and Heat
]
[
Under-car Condenser
]
[
HVAC Control Electrical Package
]
[
Custom HVAC Examples
]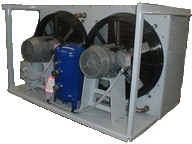 Railroad Passenger Car HVAC and Controls
Phone: (503) 231-4808, Fax: (503) 230-0572, E-mail

See where our equipment is located on a typical railway passenger car
---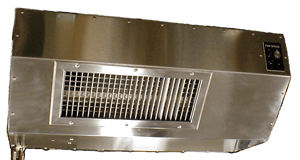 At left is a modular air conditioning and heat control system assembled for use in HVAC system control on a business car owned by a major North American railroad company. More examples of such railroad HVAC control systems may be seen in the custom locker package section of our web site, but most of the time it is possible to meet the needs of a typical pasenger car using one of our standard electrical locker packages.

At right is an evaporator built to provide air conditioning in the galley on a dining car, made from stainless steel in order to meet modern food service standards in such locations.

---
On the surface, heating and air conditioning controls on railroad passenger cars seem simple enough: keep the passengers comfortable by running the air conditioning when it is too hot and run the heat when it is too cold. However, simply throwing a mercury-bulb thermostat in a railroad passenger coach will not do the job. Vibration of the passenger car, for one example, would make the mercury slosh around and make the system unreliable. If the car were stopped on a section of track with super-elevation or sunken sections, the temperature control would also be unreliable as the mercury bulb will not be positioned correctly. Air conditioning equipment for buildings tend to use high fin density with very thin fins, so that when used to air condition railroad cars reliability and capacity are quickly reduced due to damage from rocks and other moving-vehicle related debris. Therefore, producing reliable heating and air conditioning systems and temperature control for railroad passenger cars is not quite a simple as it might first appear to be, and requires more than just grabbing off the shelf building systems and mounting them into the railroad car.

Northwest Rail Electric has an assortment of railway HVAC systems, components and control systems operating in passenger cars in all areas of North America. We have experience in what makes railway air conditioning and heating systems operate well, yet be simple and rugged enough to withstand the railroad environment.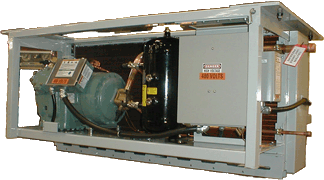 Our Railway Passenger Car HVAC Products:
Our standard products are designed to meet a range of needs in the passenger car market in North America. At right is our standard air conditioning condenser for replacement of older split systems, with the condenser under the car floor and the evaporator in the overhead.
Complete Package HVAC Units
Our NW-2 unit is specifically designed for mounting under the floor of a railroad passenger car, so long as the car has specific ductwork designed for an under-floor unit. Most heritage cars would require extensive duct modification to use such a system but we have produced over 100 of these units for various cars.
Heating and Air Conditioning Components for Split Systems
The typical heritage passenger car has an air conditioning condenser mounted under the car and an overhead evapor with a steam heat coil attached to it. These are not easy to replace with a package unit due to the rooftop and ductwork design. Therefore, the easiest solution is to replace the overhead evaporator with a package that upgrades that section, and replace the under car condenser with a package that replaces that section.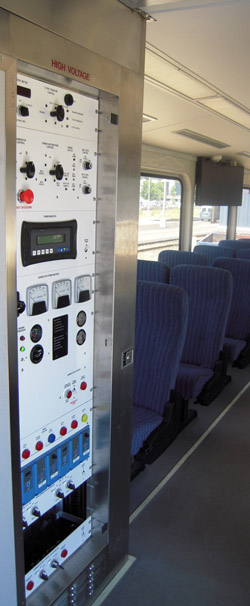 HVAC Controls and Other Electrical Systems
Our complete Electric Locker Packages include HVAC controls, circuit breaker panels, emergency light control, and other items required for a complete electrical system upgrade.

The NW-25100 Locker Package with Single-Zone HVAC Control System and Circuit Breakers is designed to be a compact electrical system upgrade for most passenger car rebuilding projects. We also have a NW-25200 Two-Zone Package for railroad cars with two zones of air conditioning (such as dome cars).

Custom variations of these packages have been made to suit a wide variety of HVAC control and electrical system needs. Contact us if there are specific needs you have for your system.

You can see some examples of Custom Electric Locker Packages, many of which have HVAC controls incorporated into them.

We have built PLC based control systems, many of which have HVAC controls or HVAC data logging and/or fault detection and reporting incorporated into them.

NW-603-INT Replacement HVAC Control for systems used on older Amtrak cars
Some customers have had unique requirements that have resulted in the development of custom HVAC equipment, but in almost all cases our standard packages are able to meet the needs of most railroad passenger cars.
---
[
Electrical Locker Package with HVAC Control
]
[
Overhead Evaporator and Heat Package for Heritage Cars
]
[
Under-car Condenser
]
[
NW-2 Under-Car Package Unit
]
[
NW-4 Rooftop Package Unit
]
[
Generators for HEP
]
[
Custom HVAC Examples
]
[
Home
]
[
List of Products and Services
]
[ e-mail ]