[
Home
]
[
Railway Electrical Systems
]
[
Passenger Car Generator Controls
]
[
HEP
]
[
Generators for HEP
]
[
Custom Railway Electrical Systems
]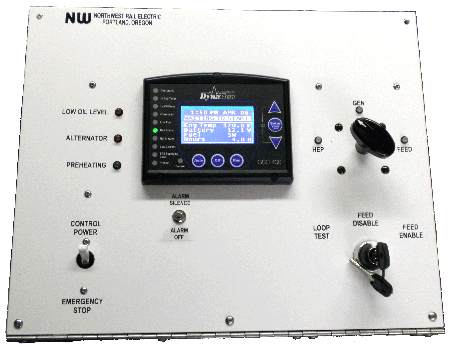 NW-GC500 Generator Control
and Power Management System with HEP Feed Option
from Northwest Rail Electric
---
The NW-GC500 is a series of generator control systems for passenger car electrical lockers designed to allow for selection between accepting power from the HEP trainline, the on-car generator, or yard power (yard is optional). Additional model variations allow for yard power at either 480 volts, 240 volts, 220 volts or 208 volts. Automatic controls allow for the generator to start and power the car electrical system automatically in the event that the HEP power fails. If yard power is an option, then the generator control will also automatically operate the generator if the yard power fails. The HEP feed setting of most models of the NW-GC500 series will allow the on-car generator to feed the HEP trainline.

An Adobe Acrobat version of the brochure for this product is also available in our PDF Files area.

Our current version features a new electronic control that integrates engine meters into the engine control unit. This significantly reduces the size of the control panel, and allows for mounting in cramped electrical lockers. Our current version is also fully compatible with the electronic systems on today's generator engines.
Standard Features of the NW-GC500 series of Controls:
Components labeled to permit easy maintenance and troubleshooting.

Generator Engine and Power Selection Controls:

Generator Breaker for turning on and off general engine electrical system. May be used as emergency shut-down of engine
Power Available Indicator Lights for HEP, Generator, and Yard (if equipped with yard)
Power Source in Use Indicator - when a power source is being used by the car, the Power Available indicator light will change color.
Key Switch for locking the HEP line out of generator feed position. This is an additional safety feature beyond the HEP control loop completion system.
Where possible, LEDs are used for indicators to allow for long indicator light life in the high-vibration conditions that exist on railroad passenger cars.
If set to operate automatically on failed power, will automatically preheat, start, and power the car electrical system when power fails. When power returns, it will automatically switch the power back to HEP (or yard), cool down the engine, and shut down when power returns.

At right is a photograph of the switchgear portion of the NW-GC500 power management system, complete with circuit breakers.

Generator Engine Indicators:

Hour Meter - built into the engine control unit.
12 Volt Engine Alternator Voltage Meter - built into the engine control unit, as is a battery voltage warning light if the engine starting battery drops below a reasonable voltage.
Engine Alternator Fault Indicator
Coolant Temperature - built into the engine control unit.
Oil Pressure - built into the engine control unit.
Engine Preheat Indicator
Engine Under Load Indicator
Engine Overcrank Indicator - Indicates that an attempt to start the engine was made, but due to an engine or fuel related problem it would not start
Indicators will light and the generator will automatically shut down when any of the following faults are detected:

Low Oil Level - Time Delay Controlled to Prevent Engine from shutting down due to sloshing caused by train motion
Low Coolant Level - Time Delay Controlled to Prevent Engine from shutting down due to sloshing caused by train motion
Low Oil Pressure - Time Delay Controlled to Prevent Engine from shutting down due to sloshing caused by train motion
High Water Temperature
Engine Overspeed
On fully electronic engines with the electronic control shown in the top left photo, these paramaters and more are part of the electronic engine monitoring system.
Optional Features of the NW-GC500:
Generator Output Meters: this is an option, and is not included on the basic standard models in the NW-GC500 series. The display is built into the electronic display, but the instrumentation devices to create the display are an option.
Yard Power: for situations when a car is equipped with a separate yard power connector on the side of the car
Generator Output: Usually this is 480 volts, but sometimes the NW-GC500 is ordered for generator output of 220 volts or 208 volts or another voltage to control a previously existing on-car generator.
HEP and HEP Feed:

Testing of the HEP control loop and feeding the HEP system are optional of the NW-GC500 series of generator control. However, almost all customers order this generator control package with the ability to feed the HEP system. Those ordered without this feature are only able to feed the car on which the generator is mounted, either automatically when HEP or yard power fails or manually.


A Note about Electronic Controls: Many generators with more recent engines require the electronic interface, as there are no relay or switch outputs at all.


An NW-GC500 with a more sophistacated digital engine control system
---
It is still possible for us to make any of the older style NW-GC500 series of generator controls. However, the new microprocessor based system allows for more flexibility in a smaller package, and is required for generators with an electronic engine interface.
---
An alternative system to the NW-GC500 is the GC-155 series of generator controls, which does not have any of the automatic power transfer features of the GC500. Instead, it is designed to provide power directly to the HEP power system. It is used in power cars and other cases where only a HEP feed package is desired.
---
Related Products from Northwest Rail Electric:
For those doing a complete upgrade on a railroad passenger car, we also offer:
---
[
HEP Connectors
]
[
Parts for Amtrak HEP
]
[
Generators for HEP
]
[
HEP Wayside Power
]
[
HEP Wire
]
[
Railway Heating and Air Conditioning
]
[
Complete Car Electrical Control Package
]
[
Home
]
[
List of Products and Services
]
[ e-mail ]