[
Home
]
[
Railway Electrical Systems
]
[
Passenger Car Generator Controls
]
[
HEP
]
[
Generators for HEP
]
[
Custom Railway Electric Systems
]
The NW-GC155 Generator Control
Phone: (503) 231-4808, Fax: (503) 230-0572, E-mail

See where our equipment is located on a typical passenger car
---
The NW-GC155 package is designed to control an on-car generator where the primary goal is to feed power to the HEP trainline system. It is designed for generator car use only. It can only power the trainline for the HEP system, and is not designed to also directly feed the circuit breaker panel inside the car. It is possible to use the NW-GC155 to power a single car, but only by powering the HEP trainline first. For those requiring a more sophisticated control system, including automatic start and operation when the HEP system fails or the HEP trainline is disconnected for switching, please see our NW-GC500 package.

While Northwest Rail Electric generator control packages may be adapted for use with a number of different type of generators, our standard system is designed to work with Stadco Generators, which meet the requirements of railroad passenger cars very well.

Note: The systems shown here are only several examples of this package, which has been produced for over 14 years. A number of variations have been produced for different generator sizes, voltages, manufacturers, and HEP configurations.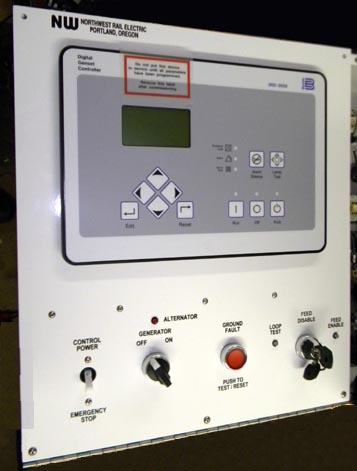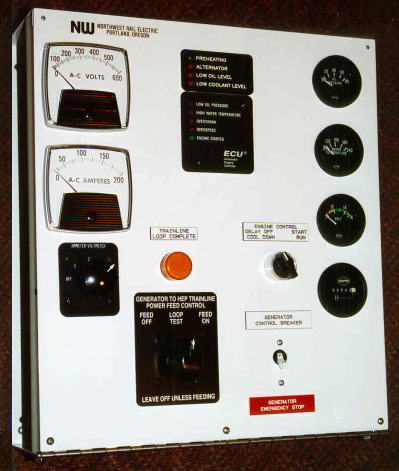 The generator control on the left is a fully electronic version of the NW-GC155 complete with engine data logging and built in battery voltage, generator output voltage, and current. The package on the right is for older generator sets that do not have an electronic interface.
Features of the NW-GC155:
Electronic controls versions are designed to interface with engines that have an electrnoic interface. This allows direct monitoring and display of a wide range of engine paramaters.

Generator Engine Controls:

Generator Breaker for turning on and off general engine electrical system. May be used as emergency shut-down of engine
Engine Control switch for selecting "Start / Run" or "Delay Off / Cool Down". When set to the "Start / Run" position, the engine preheat system will automatically start and run for a brief period of time. After the engine preheat stage is completed, the engine will automatically start up and run. In the "Delay Off / Cool Down" position, the engine will automatically run at idle speed for a period of time before automatically shutting down.

Generator Engine Indicators:
For systems without a fully electronic interface, various indicator lights are present. Certain features are optional on the fully analog system, including the power meter package:

Hour Meter
12 Volt Engine Alternator Meter
Coolant Water Temperature
Oil Pressure
Engine Preheat Indicator
Engine Started Indicator
Engine Alternator Indicator
Engine Overcrank Indicator - Indicates that an attempt to start the engine was made, but due to an engine or fuel related problem it would not start
Generator will automatically shut down when any of the following fault indicators are lit:

Low Oil Level - Time Delay Controlled to Prevent Engine from shutting down due to sloshing caused by train motion
Low Coolant Level - Time Delay Controlled to Prevent Engine from shutting down due to sloshing caused by train motion
Low Oil Pressure - Time Delay Controlled to Prevent Engine from shutting down due to sloshing caused by train motion
High Water Temperature
Engine Overspeed

Generator Output:

0-600 volt AC Voltmeter
0-200 ampere AC Ampmeter
Optional Frequency Meter
These meters are connected to a meter switch that allows for individual measurement of the voltage and current that the generator is feeding to each of the three phases. Meter switch may also be set to "off" to indicate any induction-caused problems with the meter reading.
On versions with a fully electronic control, the generator output display is built into the display on the electronic engine control. However, the instrumentation devices for creating this display are an option.

HEP and HEP Feed:

HEP "Feed Off", "Loop Test", and "Feed On" switch

"Trainline Loop Complete" Indicator light
The HEP Feed switch is normally left in the "Feed Off" position. If it is desired to feed the HEP trainline with the on-car generator, the switch is turned to the "Loop Test" position. If the control loop is complete between all the cars (that is, all of the car to car power cables are connected properly), the "Trainline Loop Complete" indicator will light. The switch may then be turned to "Feed On", which will feed power from the generator to the other cars on the train.
---
The generator control package shown here does not have automatic start and switching of the generator power. An alternative Northwest Rail Electric Generator Control, the NW-GC500 package, is designed for situations where the generator is used as a back-up power source, and selection between multiple sources of power is needed.

An Adobe Acrobat version of the brochure for this product is also available in our PDF Files area.
---
Related Products from Northwest Rail Electric:
For those doing a complete upgrade on a railroad passenger car, we also offer:
---
[
HEP Connectors
]
[
Parts for Amtrak HEP
]
[
Generators for HEP
]
[
HEP Wayside Power
]
[
HEP Wire
]
[
Railway Heating and Air Conditioning
]
[
Complete Car Electrical Control Package
]
[
Home
]
[
List of Products and Services
]
[ e-mail ]