[
Home
]
[
Railway Air Conditioning
]
[
Under-Car Condenser Package
]
[
Locker with HVAC Control
]
[
Custom HVAC Examples
]
[
HEP
]
NW-BEOH Passenger Car Overhead HVAC compartment
Phone: (503) 231-4808 Fax: (503) 230-0572 E-mail
See where our equipment is located on a typical railway passenger car
---
Heating, Venting, and Air Conditioning Overhead Package.
In recent years, we our standard model has become the new NW-BEOH-C unit that is more compact, has a three speed blower design that adds to passenger comfort by reducing air flow when needed, and is better able to handle static pressure in air conditioning ducts due to the new blower design. We have essentially completely stopped building the unit described here due to a lack of demand. We can still produce the units described here, but highly recommend the more Compact unit due to the greater flexibility and higher static pressure ability. Most customers prefer the smaller size and greater flexibility of our Compact Version BEOH-C unit. However, for those who prefer our older style units or have a fleet of cars with the older style units already installed, these remain available.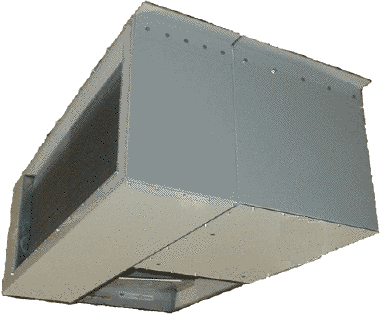 The NW-BE-OH series of HVAC parts are specifically designed to suit the needs of railroad passenger cars. Features Include:
Two-Compartment Enclosure so that Unit Enclosure breaks down into sections that can be moved through most very narrow passenger car hallways.

Twin Two-Speed Blowers are nearly a drop-in replacement for the single-motor twin-fan blowers found on most traditional passenger cars.

Two speed blowers mean improved passenger comfort over single speed blowers as high velocity air is provided only when needed.

Heater may be configured for up to 24 kW of electric heat, 480 volt or 240 volt three phase.

Air Conditioning Evaporator Coil designed to meet the needs of most standard single-level passenger cars.

Air Conditioning Coil made of rugged, widely spaced fins that will not clog or break as easily as refrigeration coils that are designed for stationary use.

Air Conditioning Coil sized to suit, as best as possible given the space constraints, the normal capacity of a railroad-style condensing unit. Our NW-100-CN condenser is sized to work extremely well with this unit.

Deep drip pan designed to drain condensate water even when the passenger car is sitting on non-level track.

Drip pan is stainless steel.

Unit enclosure is powder coat - a melted plastic finish that is superior to paint in this type of railroad application.

Access Hatches are designed to make the equipment as easy to install and maintain as possible given the tight space of railroad passenger car HVAC systems.

Dimensions: 56 inches wide overall at support flanges. 52 inches wide for enclosure only. 31 inches deep (dimension parallel to air flow). 19 inches tall.

Matched to operate with the NW-100-CN Condenser available from Northwest Rail Electric.
An Adobe Acrobat version of the brochure for this product is also available in our PDF Files area.
---
[
Railway Heating and Air Conditioning
]
[
Under-Car Package HVAC Unit
]
[
Roof Package HVAC Unit
]
[
Electrical Systems
]
[
Custom Controls for Railways
]
[
Generator Controls
]
[
HEP Parts
]
[
HEP Wayside Power
]
[
Home
]
[
List of Products and Services
]
[ e-mail ]