[
Home
]
[
Air Conditioning
]
[
Overhead Evaporator and Heat Package
]
[
Locker with HVAC Control
]
[
Custom HVAC Examples
]
[
HEP
]
NW-BEOH-CAB Passenger Car or Cab Air Conditioning Evaporator
Phone: (503) 231-4808 Fax: (503) 230-0572 E-mail
See where our equipment is located on a typical railway passenger car
---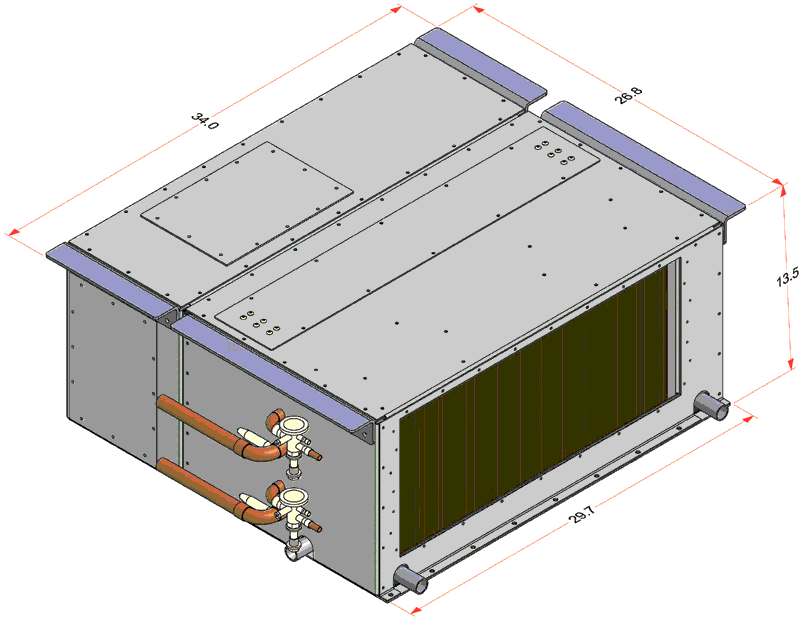 Our overhead "Cab" system was originally designed for providing air conditioning to the cab of a rebuilt Budd RDC. However, several other cutomers have found this low capacity overhead heat and air conditioning evaporator helpful in various locations on their passenger cars. This has included providing separate control of a lounge in a sleeper lounge car, or the kitchen area of a snack bar / lounge or diner or other small zone in a car requiring air conditioning zones.

The package features include:
Powder coated metal finish for long service life.

Air conditioning evaporator pipe may exit from the left or right side (must be specified at time of order) or from the top or bottom.

Evaporator drain pan has connections to the side and air intake end for best customer convenience.

May fit in a variety of locations in the overhead area of various passenger car designs, or even modified or adapted to fit various other locations such as equipment lockers.

Heat capacity may be left off entirely, or have various configurations added. Standard version has 3kW of heat.

System may be 240 volt or 480 volt.
---
Related Products from Northwest Rail Electric:
For those doing a complete upgrade on a railroad passenger car, we also offer:
---
[
Railway Heating and Air Conditioning
]
[
Under-Car Package HVAC Unit
]
[
Roof Package HVAC Unit
]
[
Electrical Systems
]
[
Custom Controls for Railways
]
[
Generator Controls
]
[
HEP Parts
]
[
HEP Yard Power Units
]
[
Under-Car HEP Generators
]
[
Home
]
[
List of Products and Services
]
[ e-mail ]