[
Home
]
[
Air Conditioning
]
[
Under-Car Condenser Package
]
[
Locker with HVAC Control
]
[
Custom HVAC Examples
]
[
HEP
]
NW-BEOHC Passenger Car Overhead HVAC Unit
Phone: (503) 231-4808 Fax: (503) 230-0572 E-mail
See where our equipment is located on a typical railway passenger car
---
Blowers, Evaporator, and Overhead Heat package for railroad passenger cars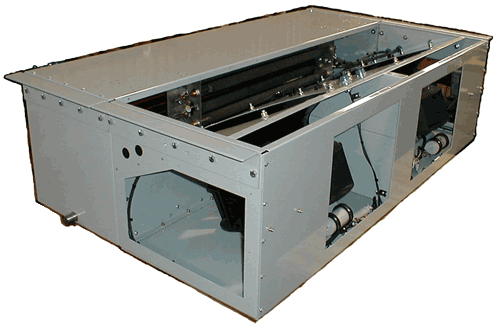 Our NW-BEOH series of HVAC evaporator units are specifically designed to suit the comfort needs of railroad passenger cars that require a split system, as typically installed in a rebuilt heritage passenger car. This evaporator offers a reduced height, increased resistance to static pressure in the ductwork due to a different blower design, and blowers with up to three speeds. Features include:
The unit enclosure in current generation units has been designed to allow for easy conversion to a rooftop-access unit instead of a car-interior access unit. Standard-order units are configured for access from the bottom inside the car, which is how the majority of heritage passenger car retrofit projects require the evaporator section. However, customers may order these units factory built to be accessed from the top, if the car is equipped with a roof access hatch.

Standard hangers include mounting holes that will fit a common vibration isolator mount, and if requested vibration isolators may be included as an add-on part of the included parts kit.


Our popular NW-BEOH-C air handler may be configured for access from a rooftop hatch, if requested at time of order.

The unit is built in a two-compartment enclosure so that the unit enclosure breaks down into sections that can be moved through most very narrow passenger car hallways. (If this is desirable, please specify this when placing the order as it is much easier for us to ship the unit already separated rather than for it to be field separated.)

Twin blowers are thick aluminum sheet metal, and have an impeller design that will continue to produce the required air volume even if the ducting has fairly high air flow resistance.

Blowers have bearings that are maintenance free. Blower wheels and motors are balanced at the manufacturer using highly specialized equipment so that the blowers operate without any detectable vibration.

Depending on control system type and voltage requirements, the blowers may be ordered as multiple speed. This provides improved passenger comfort due to reduced air flow (less draft) and noise during periods where high volume air flow is not required. Options include 480 volt three phase three speed, 240 volt three phase three speed, and (if custom ordered) 120 volt single speed.

Heater may be configured for up to 18 kW of electric heat at 480 volts, or up to 13 kw at 240 volt three phase. Single phase versions, or versions with higher heat at 240 volts, may be produced upon special request.

As seen below, the unit may be configured to have the blower output to either the sides or end of the unit by simply removing the various side panels.


Unit configured to blow air out the end


Unit configured to blow air out the sides

The evaporator coil is designed to meet the needs of most standard single-level passenger cars. For dome cars and other types of cars that require greater capacity, two units may be used with the unit pictured here providing enough capacity for the lower level of the car.

The evaporator coil is made of rugged, widely spaced fins that will not clog or break as easily as refrigeration coils that are designed for stationary use. All units have copper fins for long service life.

The coil has two evaporator circuits. This allows for variable evaporator capacity and various other control schemes.

Four options are available for refrigerant pipe connections: left side, left air intake end, right side, and right air intake end.

Our NW-100-CN condenser is sized to work extremely well with this unit. Two NW-64-CN condensers (one on each evaporator circuit) have been used in situations where more energy efficient variable capacity is desired or space requirements under the car demand two smaller condensers rather than one large one.

An available option is a connector (shown at right) on the rear of the unit so that wiring to the terminal block inside the unit is not necessary. This makes installation of the system quite easy in terms of the wiring. At this time, the connector is only available on the same side of the unit as the refrigeration pipe connections.

Welded stainless steel evaporator drip pan. The drip pan is quite a bit deeper than what is found on most evaporators designed for stationary use, in order to meet the requirements of service on a passenger car not sitting on level track.

The evaporator drip pan has multiple possible connection points, in order to provide good condensate draining even when the car is sitting on uneven track.

Unit enclosure is powder coated. The standard color is ANSI 70 Gray, which is far easier to work with than black as it makes the interior much more visible.

Access Hatches are designed to make the equipment as easy to install and maintain as possible given the tight space of railroad passenger car HVAC systems.

Since late 2012 most units come with vibration isolation kits as standard.

Dimensions: 56 inches wide overall at support flanges. 52 inches wide for enclosure only. 31 inches deep (dimension parallel to air flow). 15 inches tall means the unit can fit into even more compact overhead situations than our standard unit. For an illustration of these dimensions, see the NW-BEOHC brochure available in our PDF Files area. Detailed drawings are available upon request.
While the vast majority of passenger car rebuilds are able to use our NW-BEOH-C described here, there are some situations where customers require custom evaporators or condensers. If you think you may need a custom system, please take a look at some examples of custom HVAC equipment we have built over the years.
---
Related Products from Northwest Rail Electric:
For those doing a complete upgrade on a railroad passenger car, we also offer:
---
[
Railway Heating and Air Conditioning
]
[
Under-Car Package HVAC Unit
]
[
Roof Package HVAC Unit
]
[
Electrical Systems
]
[
Custom Controls for Railways
]
[
Generator Controls
]
[
HEP Parts
]
[
HEP Wayside Power
]
[
Home
]
[
List of Products and Services
]
[ e-mail ]