[
Home
]
[
Air Conditioning
]
[
Overhead Evaporator and Heat Package
]
[
Locker with HVAC Control
]
[
Custom HVAC Examples
]
[
HEP
]
NW-100-CN Passenger Car Air Conditioning Condenser
Phone: (503) 231-4808 Fax: (503) 230-0572 E-mail
See where our equipment is located on a typical railway passenger car
---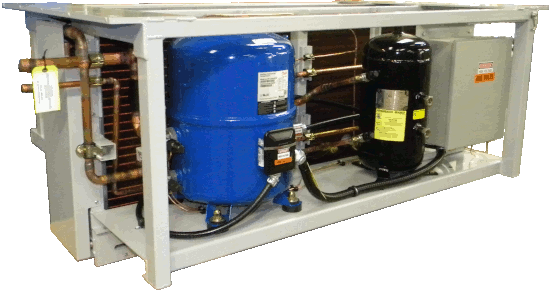 This air conditioning condenser package is designed specifically for the rigors of railroad service. The package is intended for those updating, upgrading, or replacing existing air conditioning systems on railroad passenger cars, and the structure of the air conditioning condenser is designed specifically to be hung from the top of the unit under a railroad car. The package is available with several popular railroad service compressors. Unlike rectangular condenser units that are basically modifications of commercial building systems, this air conditioning condenser has a profile that is designed with under-car clearance requirements in mind when the unit is hung beneath a railroad car.

As seen in the photo above, the standard package comes with a well proven hermetic compressor that we have used in a wide variety of railway passenger car systems, with hundreds of units in service and very successful operation. As an option, the unit may also be equipped with a Carlyle semi-hermetic compressor which is also a very popular compressor with a number of railway passenger car operators. See photo below: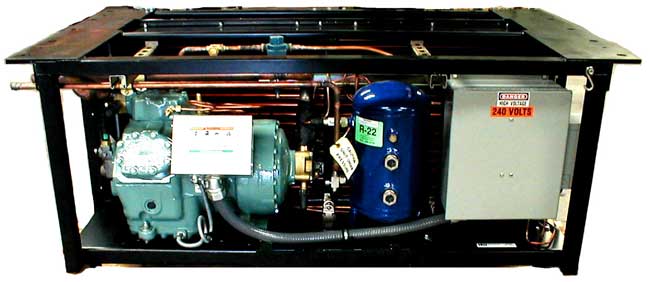 To adjust the condenser to suit different cooling needs, condenser models available include 7.5 and 10 ton rated models, with various options available for capacity control.
Condenser Coil:
At the heart of this package is a condenser coil designed to survive the rigors of the railroad environment. The coil has copper fins over copper tubing that has a thicker wall than on condensers designed for stationary applications. The fins on the condenser coil are spaced close enough together to allow for good heat transfer, but farther apart than on condenser coils designed for stationary applications. This allows most undercar railroad debris to pass through the coil without clogging or coil damage. The capacity of this coil was also developed with hot ambient air in mind. High ambient temperature is typical in railraod car applications due to the heat from other under car equipment, plus sun heating of the track and roadbed and surrounding air.
Other Equipment:
The receiver has two sight glasses suited for most passenger car systems. The condenser fans are made from high-strength engineered nylon with a tapered shaft hub. Condenser fan motors are of the Totally-Enclosed-Fan-Cooled type, with cast-iron frames. A built-in electrical cabinet is designed for ease of access with maximum protection from the elements. This cabinet is also equipped with terminals, a pump-down switch, and Schraeder valves, so that as much as possible maintenance crews have access to everything they need inside the box.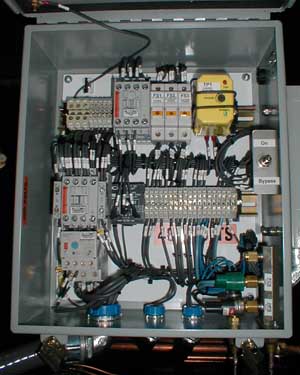 Unit Profile: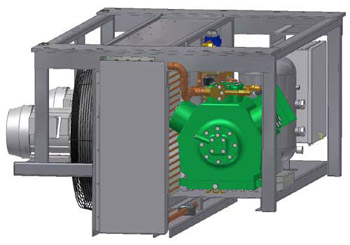 The profile of the NW-100-CN condenser is designed with railroad passenger cars in mind. The unit provides a profile that is designed to fit within under-car side clearance requirements for track-side equipment. As seen at right, the condenser frame is shaped for the compressor deck to be positioned slightly higher than the bottom of the condenser coil, allowing for typical track clearance restrictions.
NW-100-CN Condenser Package Design Features:
Structural Steel Frame designed to allow suspension from under car rails
All components selected for the rigors of railroad service
Cross section stepped to allow maximum undercar clearance
System designed for operation at 110 degree F ambient air
System is designed for the customer to specify the direction of pipe connections to the rest of the car: left side, right side, or a custom configuration
Package Features: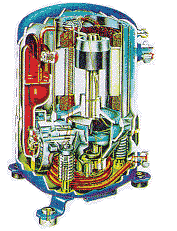 Various models available to suit specific conditions, ranging from 7.5 to 10 tons cooling capacity at normal railroad high condenser temperature conditions and with several compressor options. Ask about specific features designed to make the system suitable for a variety of situations.
Compressor: Standard Package includes a Maneurop full hermetic compressor, with a long track record of successful use in Northwest Rail Electric railroad air conditioning equipment, and hundreds of them in service in a wide variety of services.

Compressor equipped with internal suction accumulator
This compressor line has proven to survive considerable abuse, including problems with liquid refrigerant and oil level, that can be caused by HEP system failure and restart.
Unit supplied with crankcase heater. The crankcase heater is a self-regulating design allowing a single replacement element to be used on all models
Maneurop reciprocating compressors were actually originally a design by a different manufacturer that was also involved in railroad equipment manufacturing, and the compressor was designed to be suitable for use in passenger cars.
The compressor has vibration isolation built into the compressor housing, so that vibration isolation is achieved without the added problems of vibration isolators installed in the pipes.
Capacity control is a highly reliable hot-gas bypass method that has been well proven in railroad service, and provides full capacity cooling even when the condenser coil capacity must be cut back due to cool incoming air.
Motor Winding Protection
100% Gas Cooled Motor
Relief Valve
Rotalock style valves on suction and discharge lines
Compressor oil sight glass is standard on all models used on standard Northwest Rail Electric equipment.

Optional 06D Carlyle compressor

Compressor maybe equipped with various capacity controls if required and as desired by the customer
Unit supplied with crankcase heater
Low oil pressure control as supplied by and required by the manufacturer
Vibration isolation is installed in pipe connections.
Oil sight glass faces outside of frame for good visibility.

Condenser Coil

Copper tubes
Copper Fins
Flat fin pattern to reduce dirt trapping
Braod Fin Density to reduce dirt buildup and increase ease of cleaning
Enclosed return bends

Condenser Fans (2)

Nylon blade (longer lasting than thin metal fan blades) with taper lock hub
cast iron frame TEFC motors
Fan guards - On most units produced since approximately 2008, the fan guards are a new design, unique to Northwest Rail Electric, that is split into two pieces. This allows the fan guard to be removed from the unit without removing the motor or fan. This is extremely helpful for situations where the fan guard is damaged by ballast or other debris, and needs to be replaced without removal of the fan or motor.
Air flow split through the condenser coil to allow independent fan operation

Receiver: 22 lbs capacity with 2 level sight glasses
Additional features:

King and service valves
Compressor discharge over-temperature switch
Solid state pressure controls

High limit
Compressor Suction Low Pressure Limit
Fan cycling of second condenser fan

Discharge temperature limit switch
Oil pressure control system for units with Carlyle compressors
Phase rotation protection
Compressor overcurrent protection
Compressor short cycle protection

Unit dimensions

63" wide
36" deep with condenser motors extending under center sill 5 7/8" additional
28 1/4 " overall height at coil face, 24" at outer edge
Modifications to unit frame or hangers allow this condenser to be used in the same physical space as many of the older condensers used under passenger cars

Typical Front Dimensions

(Faces outward along Side of Car)

Typical Side Dimensions

(View of Left Side - note motor frame usually is positioned so that it sits under the center sill of the car)

Other models are available for various capacity requirements.
An Adobe Acrobat version of the brochure for our NW-100-CN is also available in our PDF Files area.
This unit is designed to operate with
evaporator units from either the NW-BEOH-C compact overheat heat and evaporator unit series or our older NW-BEOH overhead unit series.

The condenser has also been used on a number of systems which do not use Northwest Rail Electric evaporator or control systems, but may require some adjustment to suit the particular control scheme used.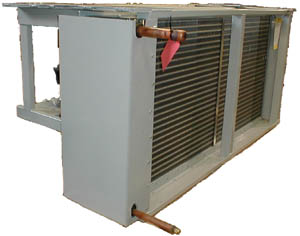 While the vast majority of passenger car rebuilds are able to use our NW-100-C series of condensers described here, there are some situations where customers require custom evaporators or condensers. If you think you may need a custom system, please take a look at some examples of custom HVAC equipment we have built over the years.
For situations where a condenser coil and fans are required without a compressor, receiver or other equipment, the NW-100-CN condenser series is also available as a condenser only, with the exact same fans, condenser coil, but lacking the compressor, control box, and receiver. This is the NW-CND-2, as seen at right. The frame for the condenser is also nearly the same as the NW-100-CN series, but lacks the machinery deck. The exact product required to meet a certain need depends on the capacity required and space limitations under the car, so call us for information and help in determining what package best suits your passenger car needs.
For situations where a smaller condenser is required, we also have available the NW-64-CN condenser.
---
Related Products from Northwest Rail Electric:
For those doing a complete upgrade on a railroad passenger car, we also offer:
---
[
Railway Heating and Air Conditioning
]
[
Under-Car Package HVAC Unit
]
[
Roof Package HVAC Unit
]
[
Electrical Systems
]
[
Custom Controls for Railways
]
[
Generator Controls
]
[
HEP Parts
]
[
HEP Yard Power Units
]
[
Under-Car HEP Generators
]
[
Home
]
[
List of Products and Services
]
[ e-mail ]