[
Home
]
[
Air Conditioning
]
[
Overhead Evaporator and Heat Package
]
[
Locker with HVAC Control
]
[
Custom HVAC Examples
]
[
HEP
]
NW-100-CN Passenger Car Air Conditioning Condenser
Phone: (503) 231-4808 Fax: (503) 230-0572 E-mail
See where our equipment is located on a typical railway passenger car
---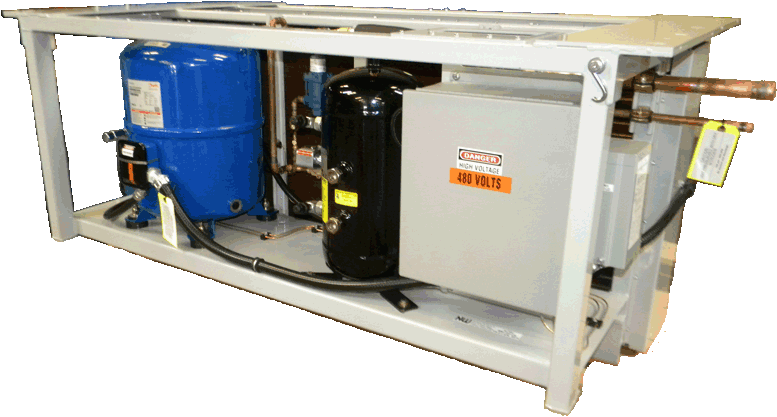 This air conditioning condenser package is designed specifically for the rigors of railroad service. The package is intended for those updating, upgrading, or replacing existing air conditioning systems on railroad passenger cars, and the structure of the air conditioning condenser is designed specifically to be hung from the top of the unit under a railroad car. The package is available with several popular railroad service compressors. Unlike rectangular condenser units that are basically modifications of commercial building systems, this air conditioning condenser has a profile that is designed with under-car clearance requirements in mind when the unit is hung beneath a railroad car.

As seen in the photo above, the standard package comes with a well proven hermetic compressor that we have used in a wide variety of railway passenger car systems, with hundreds of units in service and very successful operation. As an option, the unit may also be equipped with a Carlyle semi-hermetic compressor which is also a very popular compressor with a number of railway passenger car operators. See photo below: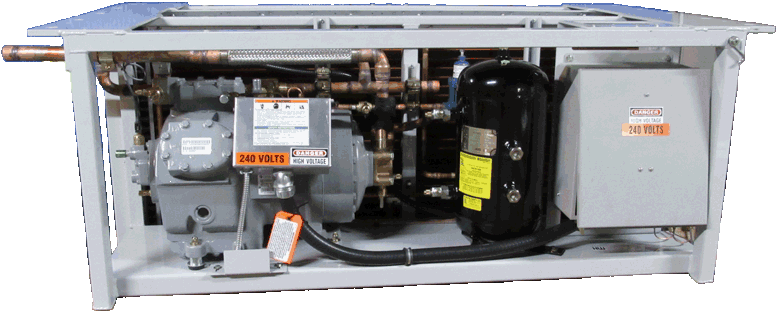 To adjust the condenser to suit different cooling needs, condenser models available include 7.5 and 10 ton rated models, with various options available for capacity control.
Condenser Coil:
At the heart of this package is a condenser coil designed to survive the rigors of the railroad environment. The coil has copper fins over copper tubing that has a thicker wall than on condensers designed for stationary applications. The fins on the condenser coil are spaced close enough together to allow for good heat transfer, but farther apart than on condenser coils designed for stationary applications. This allows most undercar railroad debris to pass through the coil without clogging or coil damage. The capacity of this coil was also developed with hot ambient air in mind. High ambient temperature is typical in railraod car applications due to the heat from other under car equipment, plus sun heating of the track and roadbed and surrounding air.
Other Equipment:
The receiver has two sight glasses suited for most passenger car systems. The condenser fans are made from high-strength engineered nylon with a tapered shaft hub. Condenser fan motors are of the Totally-Enclosed-Fan-Cooled type, with cast-iron frames. A built-in electrical cabinet is designed for ease of access with maximum protection from the elements. This cabinet is also equipped with terminals, a pump-down switch, and Schraeder valves, so that as much as possible maintenance crews have access to everything they need inside the box.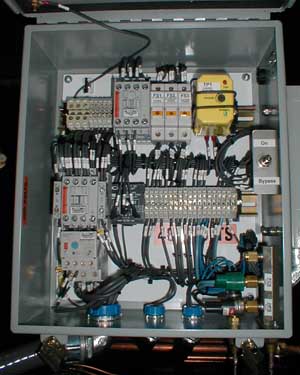 Unit Profile: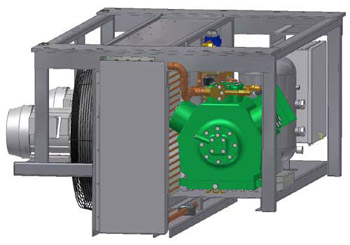 The profile of the NW-100-CN condenser is designed with railroad passenger cars in mind. The unit provides a profile that is designed to fit within under-car side clearance requirements for track-side equipment. As seen at right, the condenser frame is shaped for the compressor deck to be positioned slightly higher than the bottom of the condenser coil, allowing for typical track clearance restrictions.
NW-100-CN Condenser Package Design Features:
Package Features: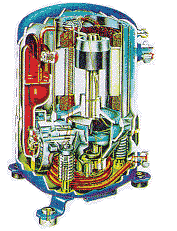 Typical Front Dimensions
(Faces outward along Side of Car)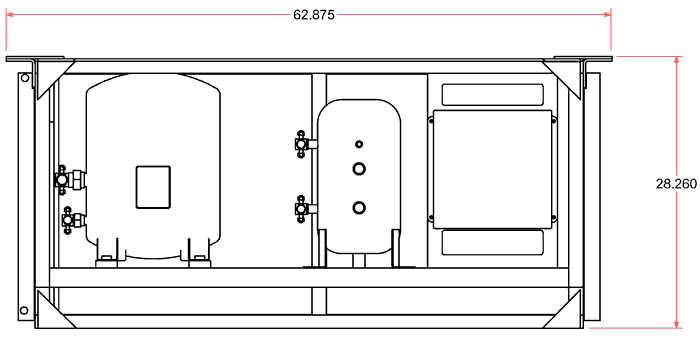 Typical Side Dimensions
(View of Left Side - note motor frame usually is positioned so that it sits under the center sill of the car)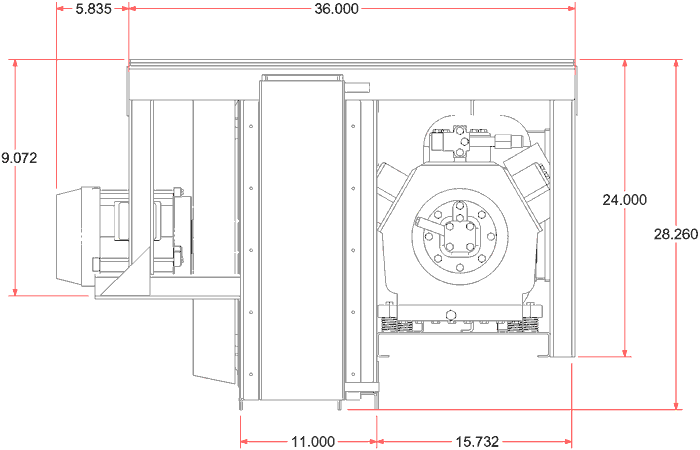 An Adobe Acrobat version of the brochure for our NW-100-CN is also available in our PDF Files area.
This unit is designed to operate with
evaporator units from either the NW-BEOH-C compact overheat heat and evaporator unit series, or any of our vertically arranged evaporators.

The condenser has also been used on a number of systems which do not use Northwest Rail Electric evaporator or control systems, but may require some adjustment to suit the particular control scheme used.

For situations where a condenser coil and fans are required without a compressor, receiver or other equipment, the NW-100-CN condenser series is also available as a condenser only, with the exact same fans, condenser coil, but lacking the compressor, control box, and receiver. This is the NW-CND-2, as seen at right. The frame for the condenser is also nearly the same as the NW-100-CN series, but lacks the machinery deck. The exact product required to meet a certain need depends on the capacity required and space limitations under the car, so call us for information and help in determining what package best suits your passenger car needs.

For situations where a smaller condenser is required, we also have available the NW-64-CN condenser.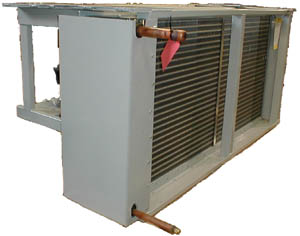 While the vast majority of passenger car rebuilds are able to use our NW-100-CN series of condensers described here, there are some situations where customers require custom evaporators or condensers. If you think you may need a custom system, please take a look at some examples of custom HVAC equipment we have built over the years.
---
Related Products from Northwest Rail Electric:
---
[
Railway Heating and Air Conditioning
]
[
Under-Car Package HVAC Unit
]
[
Roof Package HVAC Unit
]
[
Electrical Systems
]
[
Custom Controls for Railways
]
[
Generator Controls
]
[
HEP Parts
]
[
HEP Yard Power Units
]
[
Under-Car HEP Generators
]
[
Home
]
[
List of Products and Services
]
[ e-mail ]