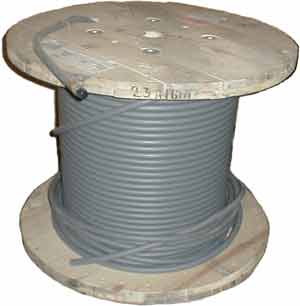 [
Home
]
[
Railway Heating and Air Conditioning
]
[
Railway Electrical Systems
]
[
HEP
]
High Performance Wire and Cable
for the transit and railroad passenger car industry
distributed by Northwest Rail Electric
Phone: (503) 231-4808, Fax: (503) 230-0572, E-mail
---
Railroad and transit industry electrical wire must meet a number of special requirements. It must not easily catch fire, and if it does burn it must not release toxic smoke. If the source of fire is removed, the wire insulation must self-extinguish. Various other requirements must be met, including abrasion resistance and resistance to contact with diesel fuel. The preferred substance that meets all of the requirements is cross-linked polyolefin insulated wire.
The following information was supplied by General Cable, which supplies the majority of our railroad grade electrical wire. Polyrad XT is a registered trademark of General Cable. Other manufacturers of railway approved wire exist, and the specific details of their process, and specific approvals, will be somewhat different. This information should therefore only be taken to be an example of what is available. Generally, Northwest Rail Electric will use General Cable Brand Rex Transit Cable, but equivalent cable from another manufacturer may be substituted if required due to availability, customer specification, or other reasons.
---
GENERAL CABLE BRAND REX POLYRAD XT LOCOMOTIVE/TRANSIT WIRE AND CABLE
|
Product Description
|
Product Features and Benefits
|
Applications
|
|
Insulation System
|
Approvals
|
Sizes Available
|
---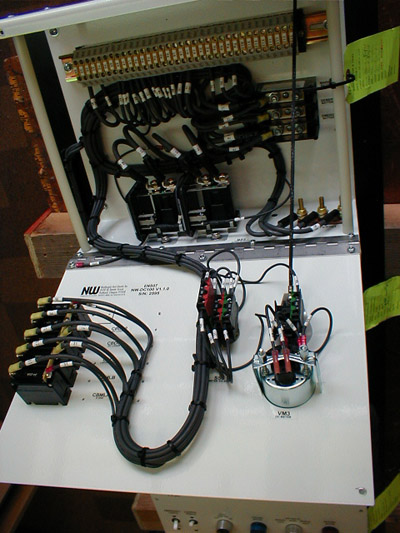 General Cable Brand-Rex Polyrad XT is an insulation system which utilizes thermosetting polyolefin compound crosslinked by radiation. This process produces maximum flame retardance, oil and chemical resistance, low smoke properties and outstanding mechanical toughness. Polyrad XT's excellent overall balance of properties is generally not attainable with conventional insulating systems. Polyrad XT single conductor locomotive and rapid transit car cables are rated either 110 Deg. C or 125 Deg. C and supplied in both 600 volt and 2000 volt constructions.

Multiple conductor constructions are available.

(NOTE: Northwest Rail Electric DOES NOT STOCK MOST SIZES OF 2000 volt insulation wire, or most types of multiple conductor forms. We sometimes do have certain types in our shop, depending on what we are building, so it doesn't hurt to give us a call to see if we have the particular size you are looking for.)

General Cable Brand Rex Polyrad XT wire and cables combine superior properties and performance for locomotive, rapid transit and offroad equipment applications.
Excellent flexibility and free stripping

Higher ampacities and simplified installations possible due to small outside diameters, flexible stranding and insulation

Outstanding thermal stability at elevated temperatures

Maximum flame-retardance and low toxicity

Excellent low temperature performance; suitable for installation in sub-zero conditions Meets cold bend test at -55 deg C and meets cold impact test at -40 deg. C

Extra tough, mechanically rugged irradiated thermoset insulation

Resistant to most oils and chemicals

110 Deg. C temperature rating for long life, higher ampacities and protection from thermal overloads (single wires).

125 Deg. C maximum conductor temperature, locomotive cable.

Maximum dependability and mechanical toughness

High ampacities and simplified installations made possible by small outside diameters, and flexible stranding.
Ideally suited for use where environmental factors require cable characteristics to perform with a high degree of flame-retardancy and excellent moisture-stable electrical values, where reliability is the major concern and where maximum performance will be demanded.
Engineered and manufactured for both original equipment and retrofit use in power and control circuits, and in motor leads.
Extensively found on all types of heavy- and light- rail cars, rapid transit cars, diesel electric locomotives, wayside equipment and off-road vehicles.

General Cable Brand-Rex Polyrad XT insulation features a highly engineered and refined polyolefin formulation used in conjunction with soft annealed, tinned copper conductors per ASTM B-33. This insulation system combines outstanding flame retardancy with excellent moisture-stable electrical values. The construction is further enhanced by radiation crosslinking which transforms the original thermoplastic into a rugged thermosetting material. The result is a compound with excellent thermal stability - it will not soften or flow at elevated temperatures. Polyrad XT also has increased toughness, greater resistance to cut-through, superior oil resistance and improved low temperature performance.
The Radiation Process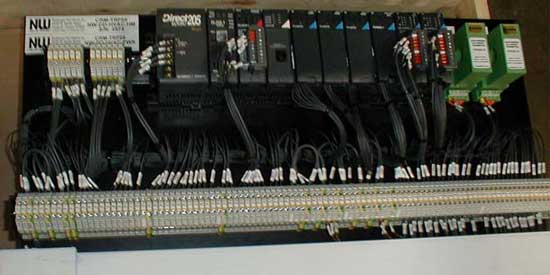 In radiation crosslinking, a scanner directs a high energy electron beam from a power source accurately and uniformly over the wire insulation. General Cable has perfected this technique enabling us to effectively process small wires with thin insulation walls. The same technology is also used to measure the precise degree and uniformity of crosslinking.

General Cable Brand Rex Polyrad XT cables are manufactured, tested and inspected in accordance with the latest issue of the following standards:
AAR S-501 and AAR RP-585

Wiring and Cable Specification, American Association of Railroads

ICEA S-95-658

Nonshielded 0-2 kV Cables

IEEE 1202

Flame Test at 70,000 BTU/hour

IEEE 383

Flame Test at 70,000 BTU/hour

UL VW-1

Flame Test

BSS 7239

Toxic Fumes

SMP 800-C

Toxic Gas Generation

ASTM E662

Standard Test Method for Specific Optical Density of Smoke Generated by Solid Materials

49 CFR Part 238

Flame and Smoke Requirements
General Cable Brand-Rex Polyrad XT is available with the following insulation ratings:
600 Volt, 110 Degree C.
600 Volt, 125 Degree C. *
2000 Volt, 110 Degree C. *
2000 Volt, 125 Degree C. *
The table below lists the sizes available as well as the rated current capacity in relation to the size and insulation temperature rating of the wire.

Items in Italics are not available as a standard product, but are available as a custom order. Minimum quantities may be required.

Northwest Rail Electric DOES NOT USUALLY STOCK 2000 volt wire. We can obtain this voltage insulation on special order, but the order will take some time for processing. We may also have incidental 2000 volt stock, depending on what products we recently built.


  APPROX     APPROX            CABLE AMPACITY
   AREA       AWG             SINGLE CONDUCTOR
(CIRCULAR    SIZE        FREE AIR 40 DEG C AMBIENT
   MILS)                 110 DEG C       125 DEG C
--------------------------------------------------
  1197+      20             24             26
  1900       18             30             32
  2601       16             35             38
  3831       14             41             44
  6088       12             52             56
  10910      10             73             79
  14950      8              85             92
  24640      6              120            130
  36760*     5*             160*           173*
  42420      4              168            181
  50500*     3*             199*           215*
  60600      2              214            231
  90900*     1*             268*           289*
  111100     1/0            304            328
  131300     2/0            338            364
  181800     3/0*           414*           446*
  222200     4/0            472            509
  262600*                   524*           565*
  313100*                   590*           636*
  373700*                   657*           708*
  444400*                   734*           791*
  535300*                   828*           893*
  646400*                   931*           1004*
  777700*                   1047*          1129*
  929200*                   1168*          1259*
 1111000*                   1254*          1352*


* This size is available only by special order. It is not stocked by Northwest Rail Electric. Lead times may be very long for some special order sizes, and minimum quantities may be required.

+ Approximate size.
---
We also manufacture and distribute a number of other products used in converting railroad passenger cars to Head End Power:
---
[
Railway Heating and Air Conditioning
]
[
Under-Car Package HVAC Unit
]
[
Roof Package HVAC Unit
]
[
Electrical Systems
]
[
Custom Controls for Railways
]
[
Generator Controls
]
[
HEP Parts
]
[
HEP Wayside Power
]
[
Home
]
[
List of Products and Services
]
[ e-mail ]