[
Home
]
[
Railway Electrical Systems
]
[
Custom Products Gallery
]
[
Railway HVAC Products
]
[
HEP
]
[
Wayside HEP Panels
]
Recent Custom Products
Custom Products built to for the Passenger Railroad Industry by Northwest Rail Electric
Phone: (503) 231-4808 Fax: (503) 230-0572 E-mail
See where our equipment is located on a typical railway passenger car
---
Dual Generator Control with Paralleling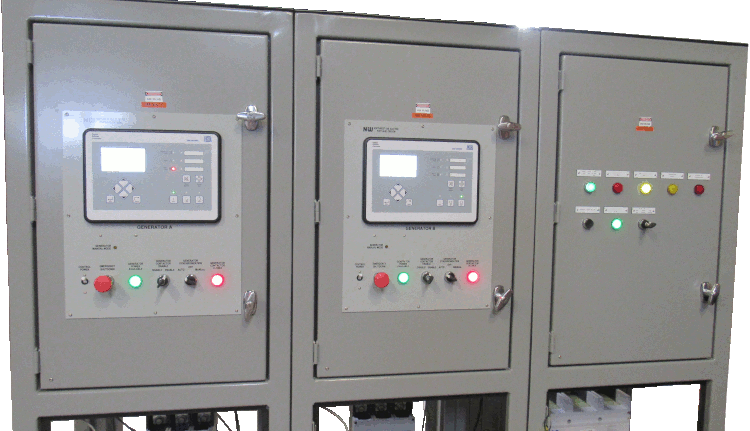 Sometimes, there is a need for a large power car for providing power to long trains. However, large generators are quite inefficient when lightly loaded. This package provides power to trains with a high demand by paralleling two smaller generators, allowing for more economical power to shorter trains by only operating one of the generators.
---
Custom Compact Rooftop Condenser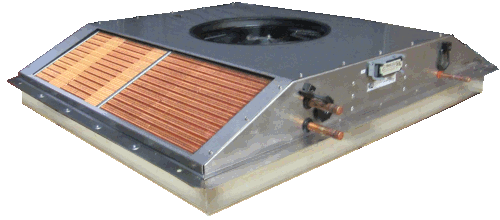 This particular customer needed a compact rooftop air conditioning condenser for a track geometry car.
---
Custom Variant of NW-GC500

This is a custom variant of our NW-GC500 generator control. The package shown here combines the generator control with the heavy switchgear panel onto a single panel. There are a fair number of yard power ("wayside power") systems that have been installed incorrectly and provide reverse phase rotation, and the particular system shown will autmoatically correct incoming reverse phase yard power should the yard power receptacle be connected to such a system.
---
HVAC Control with Programmable Logic, Remote Display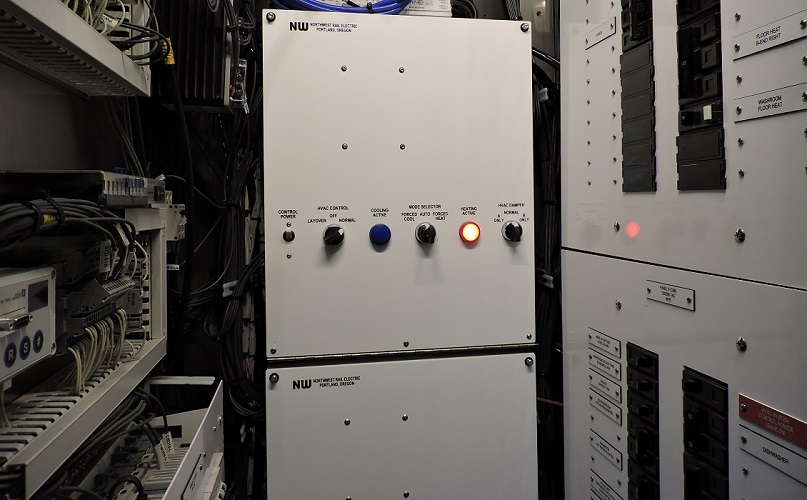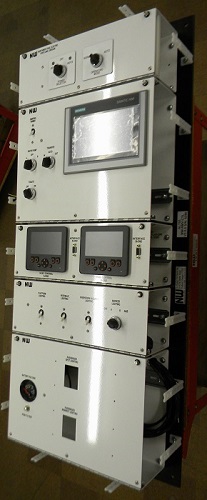 A custom control system involved two programmable HVAC controls separated from the locker that houses all the circuit breakers and heavy power switching equipment. A number of digital displays were part of the control system. The power system is shown above on the left and the control system is shown on the right.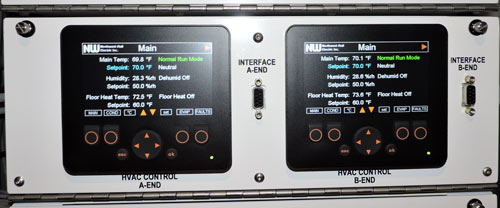 ---
110 volt DC Heating and Air Conditioning Package Unit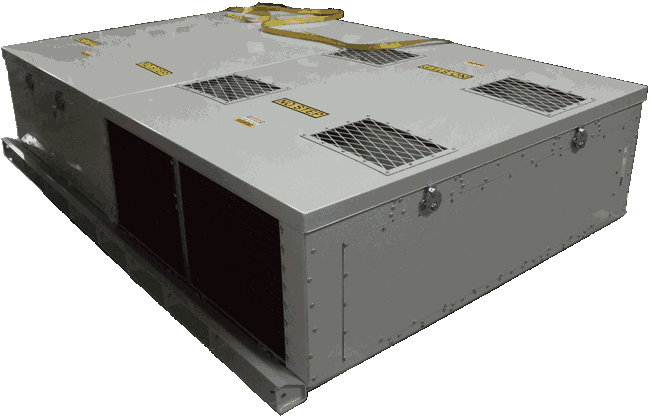 We developed and built several custom 110 volt DC air conditioning systems for a customer using this unusual voltage. Variable speed fans and compressors were also part of the system, so that this was quite an involved development project.
The PLC control system was an interesting development as well.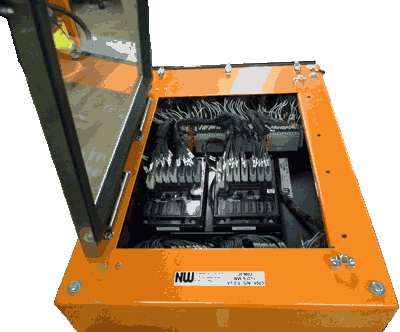 ---

Locker Package with Various Features

In the course of rebuilding passenger cars for use in Canada, a particular car shop asked us to produce this package for their customer. The package includes three sets of dimmable LED passenger area lights, battery voltage meter, two zones of air conditioning controls, several low voltage power systems, and several low voltage circuit breakers for various loads. Canada uses two parallel HEP systems and so the power system on this car has the switchgear for selecting one HEP line or the other as the power source (lower right). The selection of wich HEP trainline to use may be made automatically or manually, and the control for this is seen towards the bottom of the panel shown on the left.


Dining Car Electrical Panel
Normally, Northwest Rail Electric doesn't provide electrical equipment for Amtrak as there are other railway electrical equipment suppliers that are able to produce large volumes of equipment. However, due to the limited production quantities Northwest Rail Electric produced this electrical panel (right) for an Amtrak contractor working on one of their dining cars. There is quite a lot of custom sheet metal that is hidden behind the covers, which adapt the required circuit breakers to the custom configuration. The various label colors are all made to order to meet Amtrak specifications.


Variation of NW-25100 Control System
The main piece of this locker package is a variation of the NW-25100 HVAC Control System but with a few unusual features. Among these, the temperature display is in the middle of the control panel cover. The controls include a programmable layover control that operates the heat or air conditioning with a fairly broad dead range, but normal HVAC operation turns the system to function with temperatures comfortable to passengers. There is another control for baseboard heat. The control at the top of the panel gives battery voltage for the car 72 volt battery system, with a selector switch to turn on the marker lights on either the A or B end of the car. The panels below the HVAC control are various custom control circuits that do not need to be accessed under normal circumstances. One variation of this panel has a series of 24 volt circuit breakers for turning on various low voltage loads, including LED over-seat lights.

Extensive DC Circuit Breaker Panel in a Glass Front Enclosure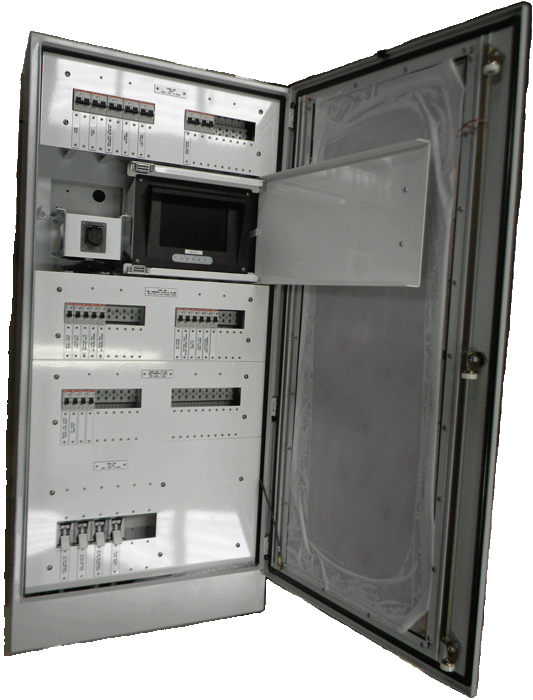 Note that where required the circuit breakers have been labeled with engraved tags. Where appropriate space has been left for additional future tags. All of the circuit breakers will be visible through the glass fronted enclosure when the system is installed, so that it doesn't even have to be opened to determine if a circuit has been turned on or a breaker tripped. The display screen, processing system, USB port (circular connector to the left of the display screen) and certain other components located on the second panel down were required by the customer to be covered while in motion, and thus the secondary cover for those systems. The white adhesive paper protects the glass part of the enclosure door until the system is installed. Quite a lot of custom sheet metal was involved in positioning the various types of circuit breakers and the display system at a uniform height.
Heating and Air Conditioning Systems: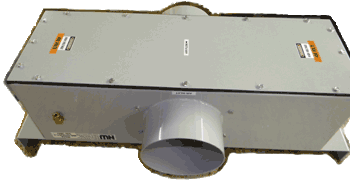 Recent rebuilds of certain unique self-propelled cars required the development and production of several of these unique (to fit the space and duct work) cab heaters.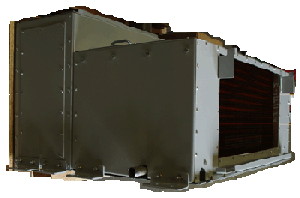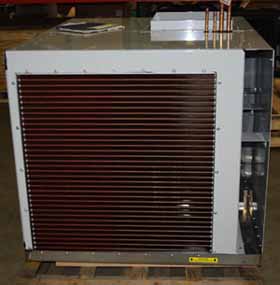 Several eccentric air handlers have been produced that fit into tight clearances of several different passenger car designs. The sheet metal may be eccentric, but fans, heater elements, and most other components are shared with our standard NW-BEOH-C series of railway passenger car air handler units. This allowed the customer with a train of standard units and one car that required a custom unit to not need any additional spare parts beyond what they already had for their previously existing Northwest Rail Electric equipment.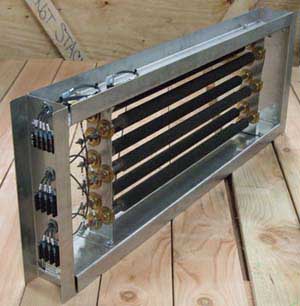 Several custom heaters have been built for several customers, including this one for a tourist railroad that is installing electric heat on a 1912 Pullman.
Custom Air Conditioning Condensers: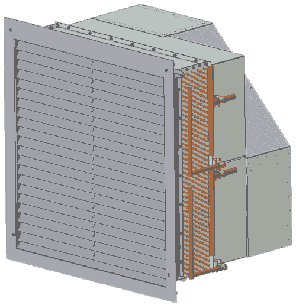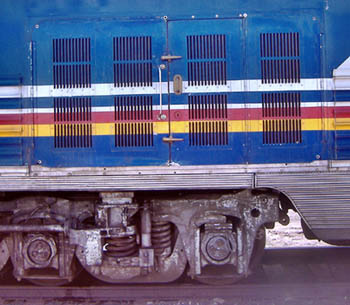 Remember those big full length dome cars that wound up working in Alaska? Now, they have returned to the lower 48 states and are being rebuilt by various car shops. In order to meet customer demands for these rebuilds, we have developed several air conditioning systems that fit into the old machinery compartment.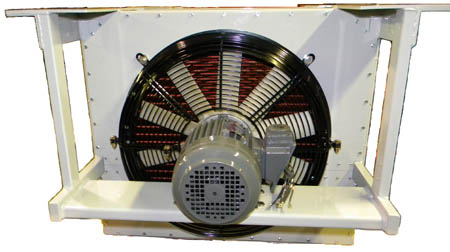 A particular customer recently requested a custom condenser, that basically required modification of our NW-100-C to produce a single fan half-width condenser.
750 Volt DC Contactor Box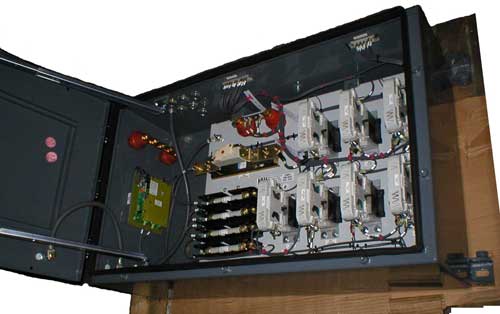 This bathtub sized electrical cabinet includes a number of contactors for running loads powered by 750 volts DC. There are also a number of fuses, and terminals and connectors that receive and feed the power to the outside world. When open, the enclosure lid is held in place by locking struts, so that the door will not close by accident.
High Capacity Nickel Cadmium Battery Charger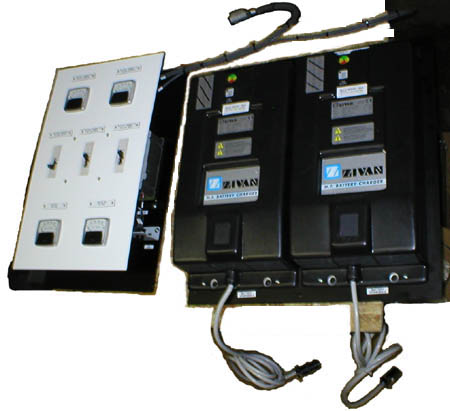 Many of today's passenger cars use nickel cadmium batteries. This package takes 480 volt three phase power from the HEP system and charges a fairly large 120 volt nickel cadmium battery bank. Also included are the 480 volt circuit breakers and meters for monitoring the battery voltage and HEP system voltage feeding the chargers.
Constant Voltage Transformers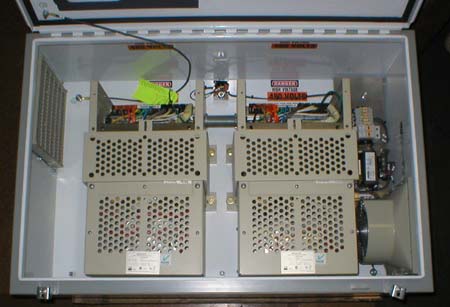 A particular customer wanted some constant voltage transformers in order to protect their equipment even when voltage sagged. These transformers will do just that: if the voltage drops as low as 400 volts or as high as 550 volts the output will still be 240 volts. They demand a relatively cool and dirt-free enclosure and so the package also included a temperature activated fan and air filters on the air input and output.
Locker Package Variation: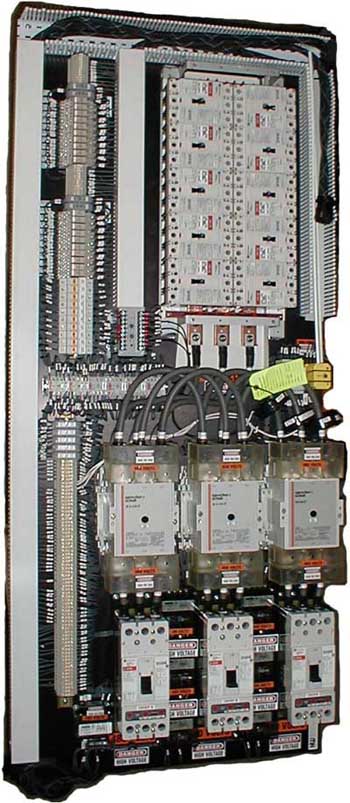 This locker package was a variation of a package we already had in production for a different customer. It features generator input and two head end power systems. The generator is able to power just the car, or feed either HEP system. When receiving HEP, it is possible for the car to receive HEP from either of the two HEP systems.
Double-Stack Generator Package: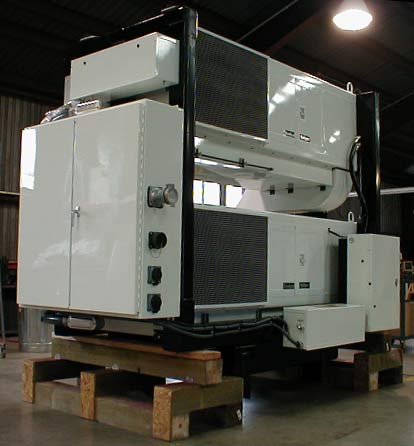 This double-stack generator package includes two Stadco Railgen generator sets stacked on top of eachother, with a custom control package. The generators are special twelve-wire systems that can produce 208 volts 3 phase, 480 volts three phase, or both at the same time. One generator set acts as the back-up generator for the other. The control system was custom as well.
More Heating & Air Conditioning Equipment: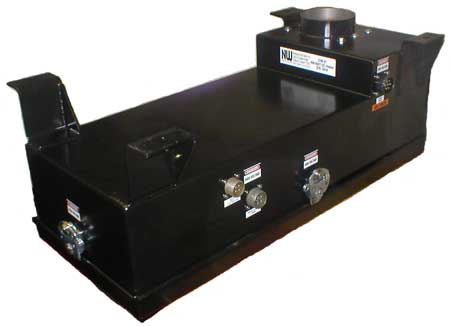 A prototype heater was constructed for a transit car prototype. The odd shape was necessary to fit the blower, filter, heater elements, and thermostats into the space available.

For use under the end-car window in a track inspection car, we built this air handler unit. The size and shape of the window dictated the space available, and we built the equipment to match.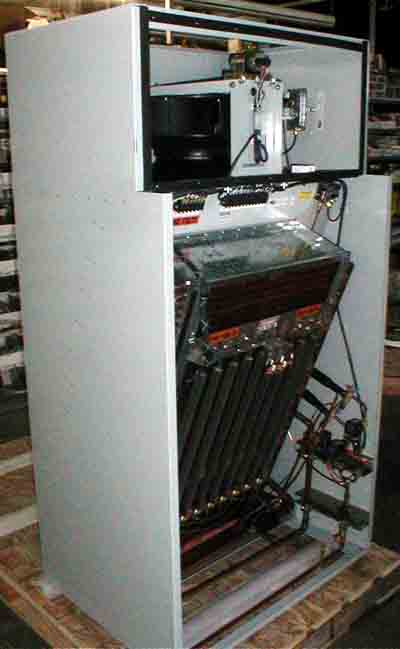 This package provides air conditioning in a particular dome car design. The unit sits in a closet in the car, and air intake is through the door of the closet. We have built at least eight of these for various dome cars.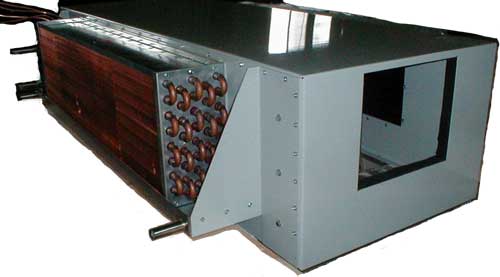 Once again we have produced a two-direction blower system with air conditioning evaporator and HEP-powered electric heat. This unit required two evaporators and two heaters due to the air intake being on both sides, and the blower output being on the two ends.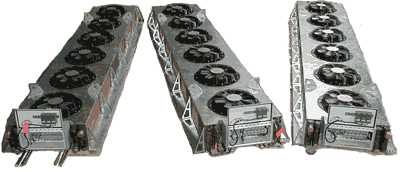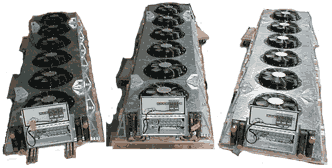 These roof-top condensers were built for a passenger car that simply has no space underneath for such equipment.
Custom Locker Packages: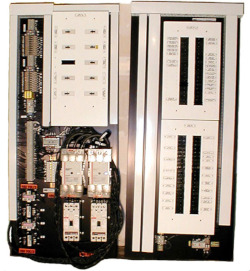 480 volt (left) and 120 volt (right) circuit breakers on a pair of panels designed by Northwest Rail Electric to serve the needs of a complex passenger car system.
The unit pictured here is a fairly typical example of the complex locker packages that Northwest Rail Electric custom-designs for the railroad passenger car market. The two big circuit breakers and contactors at the bottom right of the panel on the left are what determines the source of power: HEP or generator power. The small equipment on the far left is part of the HVAC control system, and some of the other components are part of current control (such as phase detection and overcurrent protection) that helps protect the system on the passenger car. Above the large grey contactors is a 480 volt circuit breaker panel for several of the large loads on this passenger car. This includes 480 volt to 120/208 volt transformers, HVAC equipment, and several dining car kitchen loads (such as a large hot water heater and oven) that require 480 volts, 3 phase to operate. The panel on the right includes some switching equipment, with the vast majority of the space taken up with 120/208 volt circuit breaker panels, which provide power to all of the household voltage loads on the various parts of the passenger car.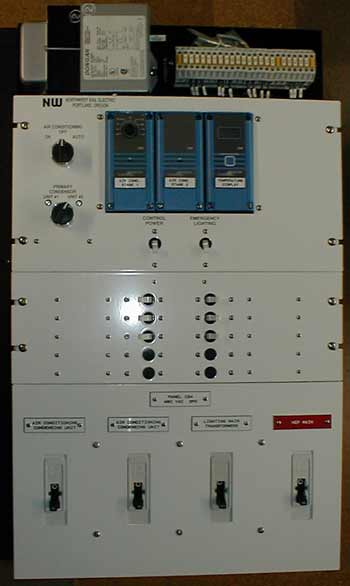 A Very Condensed Locker Package was recently built for a passenger car with very limited control needs and only a very small amount of electrical loads. The package pictured above is only about 20 inches wide and 40 inches tall, and includes 480 volt breakers for air conditioning, 120 volt breakers for lighting loads, and a very simple HVAC control system.

Recent custom locker packages have included several multiple-zone HVAC control systems for passenger cars with complicated control requirements. At right are controls built to fit the narrow locker found inside a number of business cars.
A More Condensed Modular Package was also developed to fit an electrical locker in a car with less space. Note that in the package pictured below the HVAC control panels are mounted on a door, and the contactor sets are mounted behind these on the rear wall of the electrical locker.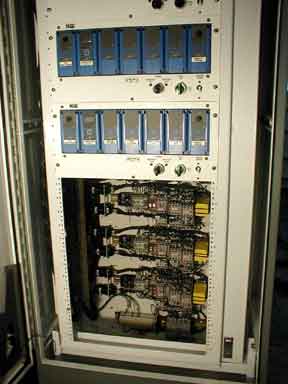 Other Modular Packages have included special indicator systems to fit the customer requirements. In the package pictured below, from top to bottom there is the bottom edge of the generator control, two sets of HVAC control panels, and at the bottom a tank level indicator that shows the level of the diesel fuel tank, the water tank, and the sewage tank.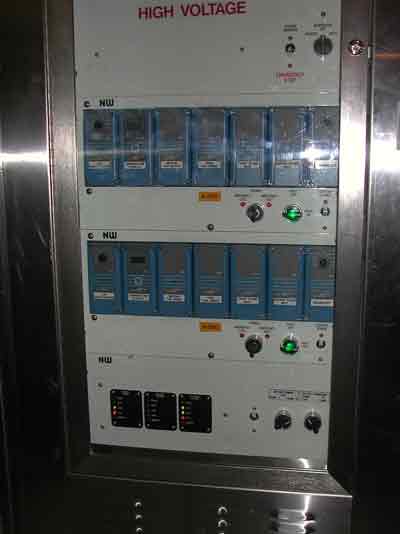 Direct Current Control Panels have been built for several cars that have complicated direct current needs. On the panel below, there are emergency light circuits, marker light circuits, generator charging circuits, and several other circuits. There are three basic groups of batteries: marker lights, emergency interior lights, and generator starting. Battery separators on the panel are designed to allow the batteries to be charged as a simultaneous group, but it also allows all three battery banks to be drained separately.

Examples of several other custom DC control panels are located on our Custom Small Control Units page.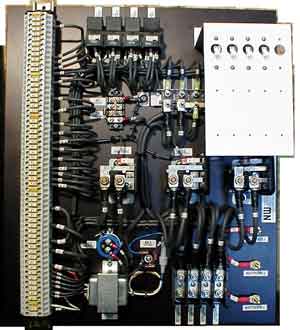 Yard Power Units:
Our most recent custom yard power unit was this dual feed unit. A remote enclosure (the smaller of the two enclosures seen in the photograph) will be mounted at the end of a second passenger car storage track. This will allow one yard power unit (the larger enclosure) to feed both tracks.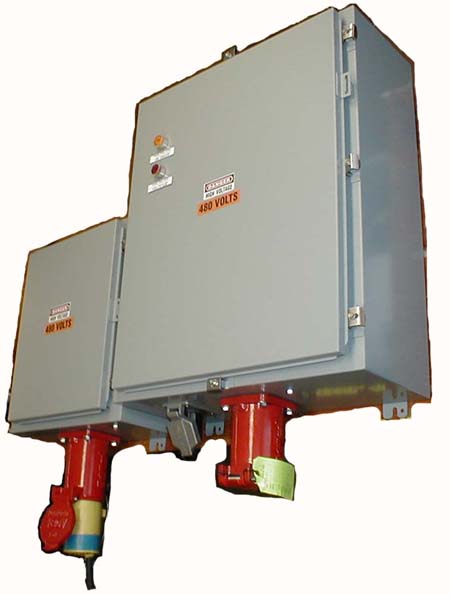 ---
Custom Locker Packages for entire passenger car electrical lockers
PLC Controls Examples of Control Systems we have built incorporating Programmable Logic Controllers.
Passenger Car Services - sometimes we get involved in more than just providing electrical and air conditioning parts.
---
[
HEP Connectors
]
[
Parts for Amtrak HEP
]
[
HEP Generator Controls
]
[
Generators for HEP
]
[
HEP Wayside Power
]
[
HEP Wire
]
[
Railway Heating and Air Conditioning
]
[
Complete Car Electrical Control Package
]
[
Railway Car Electrical Systems
]
[
Home
]
[
List of Products and Services
]
[ e-mail ]