[
Home
]
[
Railway Electrical Systems
]
[
Custom Products Gallery
]
[
Railway HVAC Products
]
[
HEP
]
Passenger Car Services
Custom Products built to for the Passenger Railroad Industry by Northwest Rail Electric
Phone: (503) 231-4808 Fax: (503) 230-0572 E-mail
---
NOTE: Northwest Rail Electric does not rebuild passenger cars on its own. However, we have relationships with a number of passenger car shops, and we also have familiarity with the industry. Therefore, we have at times become involved in the rebuilding of passenger cars in a consulting position.

While it is not common for us to do so, there have been times when Northwest Rail Electric has been asked to evaluate passenger cars for particular services or conversions.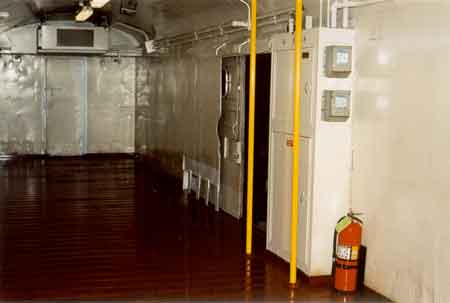 DWLX 800717 is a rebuilt baggage car, with significant involvement of Northwest Rail Electric. It has a new floor and Amtrak compatible electrical system. It is only one of a number of examples of Northwest Rail Electric getting involved in passenger car rebuilding.
Because we have worked with so many different passenger car rebuilders and repair shops, we have a general idea of what cars are available, what condition they are in, and what types of passenger cars would be suitable for a particular type of service.
Exact projects have varied considerably, and have included everything from finding small parts for historic passenger car preservation to finding a qualified inspector for inspection of wreck damaged commuter coaches.
Due to the wide variety of projects, and their nature as only a very small part of our entire company, it is best to contact us directly and describe your project to us so that we may consider what we are able to do for you.
---
Custom Locker Packages for entire passenger car electrical lockers
PLC Controls Examples of Control Systems we have built incorporating Programmable Logic Controllers.
Passenger Car Services - sometimes we get involved in more than just providing electrical and air conditioning parts.
---
[
HEP Connectors
]
[
Parts for Amtrak HEP
]
[
HEP Generator Controls
]
[
Generators for HEP
]
[
HEP Wayside Power
]
[
HEP Wire
]
[
Railway Heating and Air Conditioning
]
[
Complete Car Electrical Control Package
]
[
Railway Car Electrical Systems
]
[
Home
]
[
List of Products and Services
]
[ e-mail ]