[
Home
]
[
Railway Electrical Systems
]
[
Custom Products Gallery
]
[
Railway HVAC Products
]
[
HEP
]
[
Wayside HEP Panels
]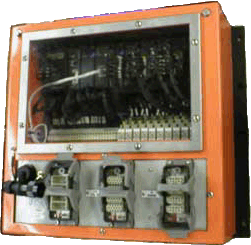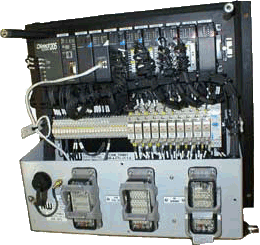 Custom Railway PLC Controls
Phone: (503) 231-4808, Fax: (503) 230-0572, E-mail

See where our equipment is located on a typical passenger car
---
Programmable Logic Controllers (PLCs) are extremely common in a large number of industrial control systems. This includes railroad passenger cars, where they have been used for everything from destination sign controls to HVAC controls to data aquisition and management. Northwest Rail Electric has constructed a number of systems incorporating PLCs and the flexibility allow them to be constructed to meet unique needs of each customer. The flexibility, versatility and wide variety of features make PLC based control systems a good fit for a number of needs. These are a few examples of PLC based control systems we have produced for various railroad passenger car applications.
---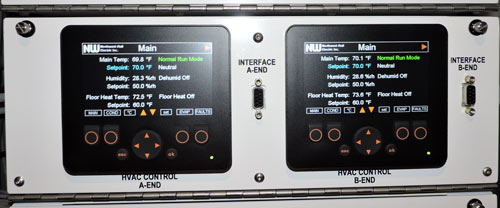 Variations of the Northwest Rail Electric NW-25100 and NW-25200 locker packages are available with PLC based controls as an option.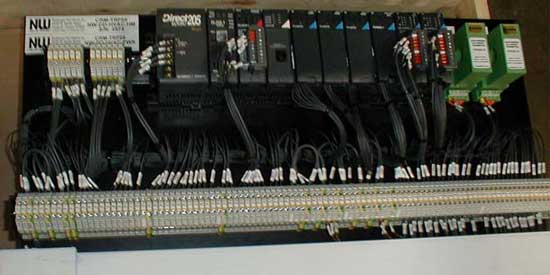 Northwest Rail Electric NW-DD-DAQ-PLC records an extensive array of operating data on one of our customer's passenger cars, and reports it to the car shop computer system by wireless network when the car returns to the shop.
Features of Various Systems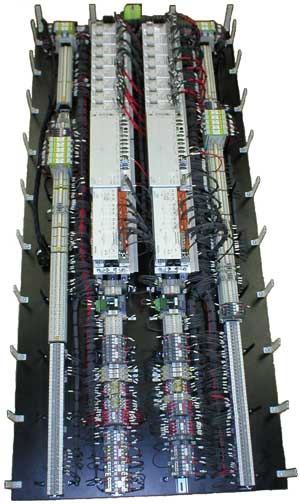 Here is a list of some of the various features that have been incorporated into Northwest Rail Electric PLC systems over the years:
Full programmable control of HVAC systems
Control of electronically commutated blowers in HVAC systems, allowing for a full range of blower speeds to meet capacity demands
Control and status indication of the under-car generator that goes beyond the standard generator control package
Traction / propulsion controls and related auxiliary systems (examples below and at right)

Cooling fan speed and HVAC blower speed using variable frequency drive controlled by a PLC
Data aquisition and error logging of HVAC aystem operation
Computer network connection from the on-car system to car shop computer system using shop wireless network and automatically transfer system alerts and other diagnostic information
Computer network connection from the on-car system in remote areas to the shop network by cell phone modem connection
Custom enclosures including viewing windows to allow viewing of system status indicators without opening the enclosure. The example pictured at the very top of this page illustrates this type of system: on the left is the system with the enclosure cover in place with compontent indicators visible through the window, and on the right is the same system with the enclosure cover removed. The example below has a hinged glass door.


On-car controls have been built with switches, touch screen panels, and in some cases an industrial computer. In the example shown below an industrial computer was used for display and control functions with a custom designed rack mount system made by Northwest Rail Electric to make the touch screen, keyboard and mouse fit inside the car electric locker door. Under normal circumstances this entire system is covered by the door panel, which blends in with the surrounding woodwork. This had yet to be installed when this photo was taken.



In order to maintain the classical appearance of historic passenger cars, if required the feedback visible outside the electrical locker may just be indicator lights and switches with a design appropriate for the era of the car.
If you have an interest in a control system that is feature rich and beyond the standard control system, a PLC based system is worth considering. Give us a call and let us know your needs.
---
Other items in our Custom Products Area:

Passenger Car Services - sometimes we get involved in more than just providing electrical and air conditioning parts.
---
[
Custom Controls for Railways
]
[
Railway Electrical Packages
]
[
HEP Connectors
]
[
Parts for Amtrak HEP
]
[
Generators for HEP
]
[
HEP Wayside Power
]
[
Railway Heating and Air Conditioning
]
[
DC Control Panels
]
[
Home
]
[
List of Products and Services
]
[ e-mail ]