[
Home
]
[
Railway Heating and Air Conditioning
]
[
Custom Products
]
[
Railway Electrical Packages
]
[
Electrical Locker Package with HVAC Control
]
[
HEP
]
Recent Custom HVAC Products
Custom Heating, Venting and Air Conditioning Products built
for the Railroad Passenger Car Industry by
Northwest Rail Electric
Phone: (503) 231-4808 Fax: (503) 230-0572 E-mail

See where our equipment is located on a typical railway passenger car
---
Most upgrading of older passenger cars can be handled by combining our NW-BEOH-C overhead unit with our NW-100-C series of condensers. Most of the new passenger cars we have worked on, and a few highly unusual conversions, have used our standard NW-2 or NW-4 package systems. However, in certain cases (both in new railroad passenger cars and conversion and upgrading of older cars) these units will not fit the available space. In those cases we have had to custom design systems that do fit the space available on the car. This is far from a complete list of the various custom pieces of HVAC equipment Norhtwest Rail Electric has produced in recent years for the railroad passenger car industry. It does, however, give a reasonably good impression of our abilities to create systems that suit the needs of the industry, when one of our standard systems will not fit a particular location.
---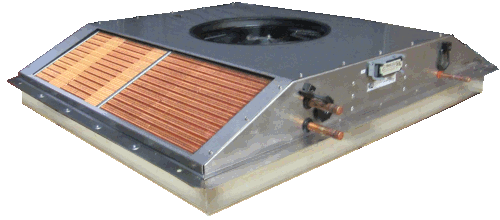 This particular customer needed a compact rooftop air conditioning condenser for a track geometry car.
---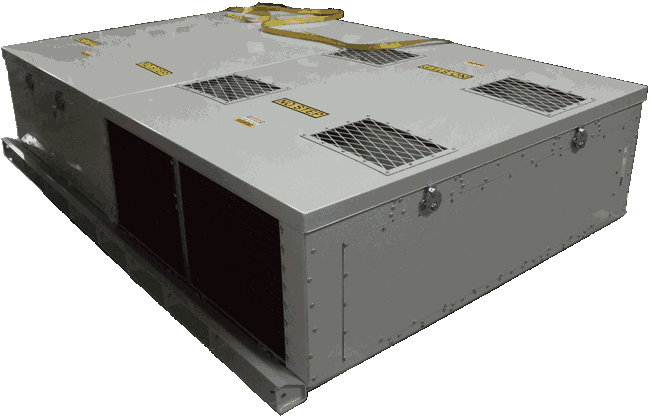 We developed and built several custom 110 volt DC air conditioning systems for a customer using this unusual voltage. Variable speed fans and compressors were also part of the system, so that this was quite an involved development project.
---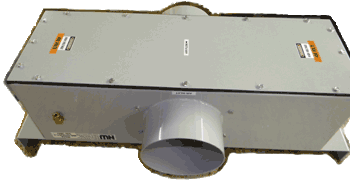 Recent rebuilds of certain unique self-propelled cars required the development and production of several of these unique (to fit the space and duct work) cab heaters.
---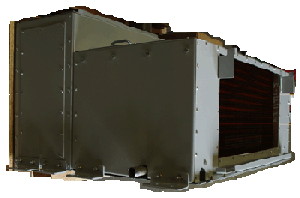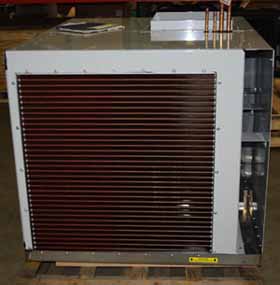 Several eccentric air handlers have been produced that fit into tight clearances of several different passenger car designs. The sheet metal may be eccentric, but fans, heater elements, and most other components are shared with our standard NW-BEOH-C series of railway passenger car air handler units. This allowed the customer with a train of standard units and one car that required a custom unit to not need any additional spare parts beyond what they already had for their previously existing Northwest Rail Electric equipment.
---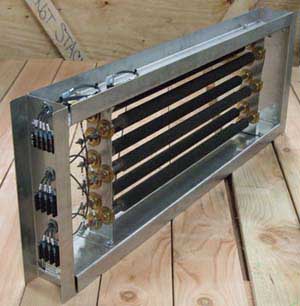 Several custom heaters have been built for several customers, including this one for a tourist railroad that is installing electric heat on a 1912 Pullman.
---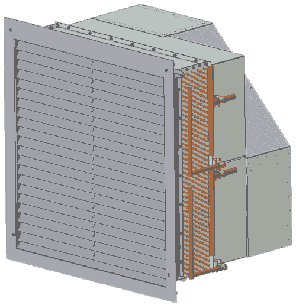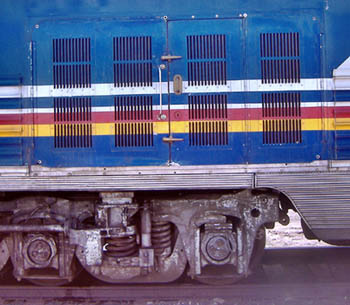 Remember those big full length dome cars that wound up working in Alaska? Now, they have returned to the lower 48 states and are being rebuilt by various car shops. In order to meet customer demands for these rebuilds, we have developed several air conditioning systems that fit into the old machinery compartment.
---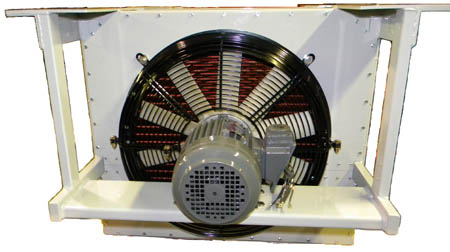 A particular customer recently requested a custom condenser, that basically required modification of our NW-100-CN to produce a single fan half-width condenser.
---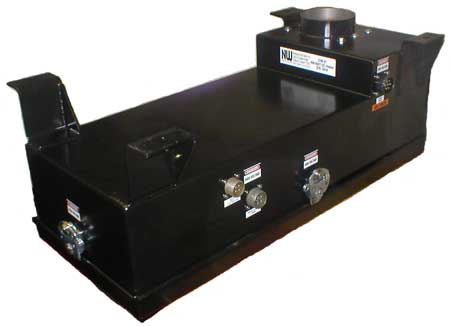 A prototype heater was constructed for a transit car prototype. The odd shape was necessary to fit the blower, filter, heater elements, and thermostats into the space available.
---

For use under the end-car window in a track inspection car, we built this air handler unit. The size and shape of the window dictated the space available, and we built the equipment to match.
---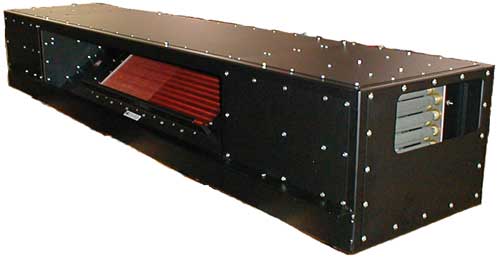 We built ten of the evaporator and heat units pictured above, which were designed to fit under sets of seats in a particular car. The system includes two blowers, two heaters, air conditioning coils, brackets to hold air filters, HVAC solenoid valves, removable panels in a number of locations to allow for maintenance access, and a sturdy frame to allow the seats to be mounted on the unit.
---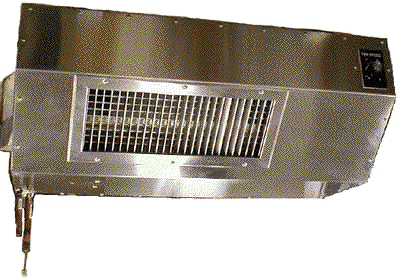 Pictured here is an evaporator package designed for use in the galley of a dome car or dining car. Several different cars of each type wound up with these units. Included are air filters, a blower, evaporator coil, coil drain pan, and a blower speed control to provide for the comfort of the kitchen staff.

---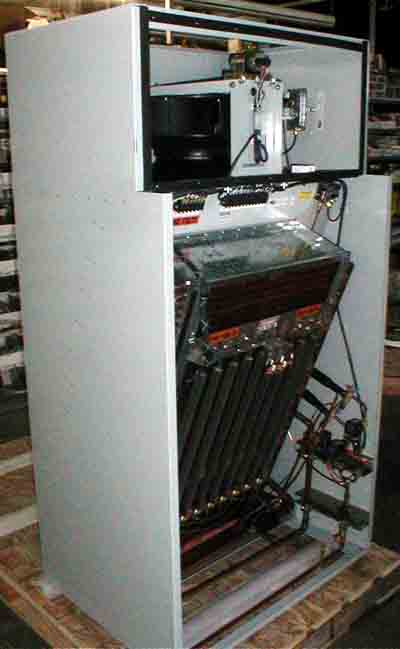 This package provides air conditioning in a particular dome car design. The unit sits in a closet in the car, and air intake is through the door of the closet. We have built at least eight of these for various dome cars.

---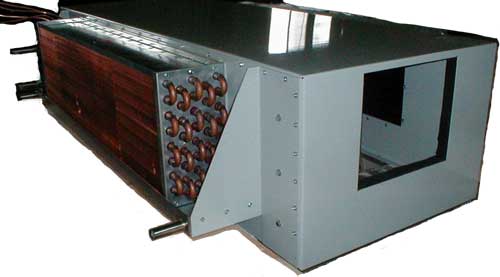 Once again (an earlier example is listed below) we have produced a two-direction blower system with air conditioning evaporator and HEP-powered electric heat. This unit required two evaporators and two heaters due to the air intake being on both sides, and the blower output being on the two ends.

---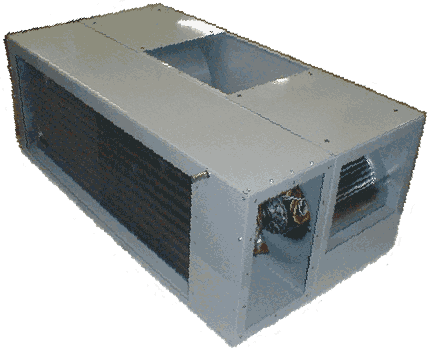 This is an earlier example of a two directional overhead blower unit, complete with electric heat and air conditioning evaporator.

---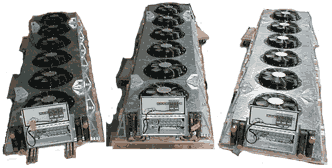 These roof-top condensers were built for a passenger car that simply has no space underneath for such equipment.

---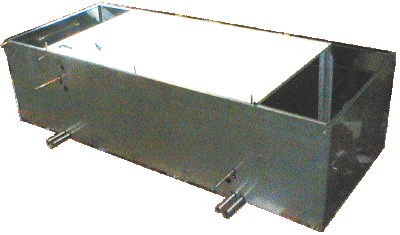 These stainless steel evaporator units were built for service in a climate where there is a lot of humidity, and therefore the customer wanted high resistance to corrosion.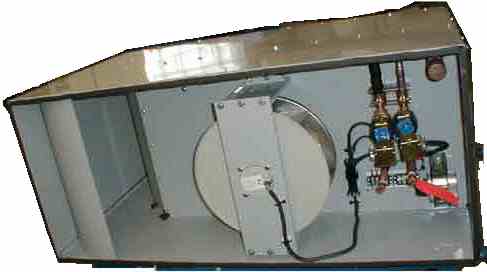 ---
Unless there is a specific reason not to include them, all Northwest Rail Electric custom evaporators packages include a rugged and well balanced blower, the expansion valves, coil distributors, and solenoid valves. In most cases the drain pan also includes enough pipe welded to the drain pan to ease the connection of the condensate drain line.

---
Custom Locker Packages for entire passenger car electrical lockers
PLC Controls Examples of Control Systems we have built incorporating Programmable Logic Controllers.
Passenger Car Services - sometimes we get involved in more than just providing electrical and air conditioning parts.
---
[
Railway Heating and Air Conditioning
]
[
Electrical Locker Package with HVAC Control
]
[
Overhead Evaporator and Heat Package for Heritage Cars
]
[
Under-car Condenser
]
[
NW-2 Under-Car Package Unit
]
[
NW-4 Rooftop Package Unit
]
[
HEP
]
[
Generators for HEP
]
[
Railway Electrical Packages
]
[
Home
]
[
List of Products and Services
]
[ e-mail ]